Isotonitazene: What Is It & How Is It Affecting Ohio?
Last Updated: October 25, 2022
Isotonitazene is a synthetic, designer opioid that is 500 times more potent than morphine. Known under street names like iso, nitazene and toni, the drug has been found across the United States. Ohio was one of the first states to try to stem the tide against isotonitazene, making it illegal as of 2020.
Nonetheless, isotonitazene is responsible for many overdose deaths in the U.S. over the past year. Understanding the dangers of isotonitazene is important to protect yourself and your loved ones from the drug.
What Is Isotonitazene?
Isotonitazene is a potent, man-made opioid that was first discovered in 1957. Although some opioids are used for legitimate medical reasons, isotonitazene is not an approved drug in any country in the world.
Experts are concerned that some people may be using isotonitazene as an alternative to the Schedule I controlled substance heroin. The drug is chemically similar to the Schedule I opioids etonitazene and clonitazene. For this reason, the DEA temporarily made isotonitazene an illicit Schedule I controlled substance in 2020. The DEA has until 2022 to permanently extend this scheduling.
The drug began to emerge in illicit drug markets during the opioid epidemic and was first found in drug seizures in the U.S. in 2019. People appear to be ordering isotonitazene online from international dealers.
Isotonitazene is available in both powder and liquid form but is mainly sold in powder form. As a powder, it is often yellow, brown or off-white. However, law enforcement has also found the drug as an ingredient in counterfeit opioid pills, like counterfeit hydromorphone (Dilaudid).
Isotonitazene can be abused in multiple ways, most commonly through vaping, injection, snorting/sniffing or by mouth.
Dangers of Isotonitazene
As a Schedule I controlled substance, isotonitazene carries a very high risk of abuse, addiction and dependence. Like other opioids, people may take isotonitazene to get high, or they may combine it with stimulants like cocaine to ease a crash after the drug wears off.
Although isotonitazene's side effects are not clear, experts think it likely shares side effects with other opioids, including:
Coordination problems
Dizziness
Drowsiness
Confusion
Sedation
Slowed breathing
One danger of isotonitazene is that its purity and ingredients can vary. It's hard to predict its effects even if a person has taken it before, making it easy to overdose. Isotonitazene users have stated they have taken a wide variety of doses of the drug to get high.
Fortunately, the opioid reversal agent naloxone (Narcan) appears to work against isotonitazene and can help avoid overdose deaths. However, because naloxone only works on opioids, it cannot fully reverse an overdose from both isotonitazene and other non-opioid substances. In addition, because isotonitazene is so potent, a person may need a higher than normal naloxone dose to reverse an overdose.
Isotonitazene and Overdose Deaths
Because isotonitazene is so potent, it takes very little of the drug — even less than fentanyl — to cause an overdose. Doctors have found that even small amounts of isotonitazene can cause an overdose death. It has been compared to carfentanil in terms of its danger.
Isotonitazene was originally linked to 19 U.S. overdose deaths as of 2020, but the scope of overdose deaths appears to have been wider than previously thought. A later study showed that in two counties in Illinois and Wisconsin alone, the drug was involved in 40 overdose deaths in the first seven months of 2020.
Law enforcement has found isotonitazene in multiple states across the country, including California, Illinois, Indiana, Iowa, Minnesota, Pennsylvania and Wisconsin. Many people who have died from an isotonitazene overdose had other drugs in their systems, including benzodiazepines and other opioids.
Isotonitazene in Ohio
In May 2020, Ohio became one of the first states in the U.S. to take emergency action against isotonitazene. Ohio made the drug a Schedule I controlled substance even before the DEA made a move to do the same on the federal level.
Because isotonitazene cannot be found in standard drug tests, officials have planned to add special tests to look for the drug, especially for Ohio overdose deaths. At this time, it is unclear how many Ohio overdoses have occurred due to isotonitazene.
If you or your loved one are struggling with an opiate or opioid addiction, the addiction experts at The Recovery Village Columbus can help. Contact us today to discuss personalized treatment programs that can address your substance abuse and any co-occurring mental health conditions so you can begin a healthier, substance-free life.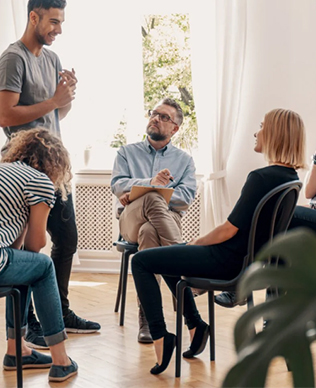 Questions?
Our Recovery Advocates are ready to answer your questions about addiction treatment and help you start your recovery.