How Ohio Is Combating the Opioid Crisis
Last Updated: December 12, 2022
The opioid crisis has been a troubling epidemic in the United States for years, with Ohio being one of the main epicenters of this issue. National Institute on Drug Abuse statistics shows that in 2018, Ohio had the fourth-highest rate of opioid overdose deaths per capita in the U.S.
Opioids are powerful sedative drugs that are prescribed to manage moderate to severe pain, but they can also be highly addictive if used for prolonged periods of time. Morphine, heroin and fentanyl are a few examples of these drugs that contribute to opioid overdose deaths that occur once every eight minutes.
Opioid overdose deaths have become increasingly prominent during the COVID-19 pandemic. Experts estimated an opioid overdose increase between 30–40% during the pandemic. In Ohio, emergency rooms saw overdose-related visits increase from 2,868 in April to 3,666 in May of 2020.
New Ohio Initiatives
Because Ohio has one of the highest rates of opioid deaths in the country, there has been increased attention from state-level government to address the crisis and promote the health of Ohioans. Some of the largest and potentially most impactful of these initiatives include:
The creation of RecoveryOhio
More funding for drug task forces
Increases in the availability of naloxone (Narcan)
The combination of these initiatives is expected to significantly improve the Ohio opioid epidemic in upcoming years.
RecoveryOhio
One of the first actions of Mike DeWine upon his inauguration as Governor of Ohio was to form RecoveryOhio. The stated purpose of this organization is to "coordinate the work of state departments, boards, and commissions by leveraging Ohio's existing resources and seeking new opportunities." RecoveryOhio is designed to serve as the central resource in the fight against Ohio's opioid problem.
More Funding for Drug Task Forces
In July of 2021, Governor DeWine announced increased funding for more than two dozen local drug task forces throughout the state of Ohio. This funding amounts to grants of over two million dollars to prevent the distribution and sale of illegal drugs in Ohio.
This grant funding will also be used to help provide treatment and care to those struggling with substance use disorders. The funding will be used to encourage children to avoid using drugs while also enabling better access to care for those affected by a substance use disorder.
Narcan (Naloxone) Increase
Announced in May 2021, the state of Ohio is providing an additional $2.5 million of Narcan. Narcan is a lifesaving drug that can be given to individuals who have overdosed on an opioid. Narcan removes the opioid from receptors in the body, quickly reversing the dangerous effects of opioids.
By having more Narcan available to hospitals, first responders and patients, Ohio hopes to make more immediate treatment available to those who overdose on opioids. While this is not expected to reduce the number of people using opioids, it could significantly improve the survival rates of those who accidentally overdose.
How The Recovery Village Can Help
The Recovery Village is a national addiction recovery network that plays an essential role in promoting the well-being of those with an addiction to opioids. The Recovery Village Columbus is highly invested in the health of Ohioans and plays an important role in combating addiction throughout the state.
We understand that overcoming an opioid addiction is difficult, and we've helped many people on their journey to sobriety. We are here to help and invite you to contact us to learn more about how we help people recover from opioid addiction.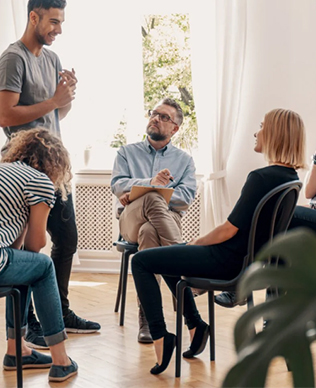 Questions?
Our Recovery Advocates are ready to answer your questions about addiction treatment and help you start your recovery.