OxyContin Addiction Treatment & Rehab in Ohio
Last Updated: December 15, 2022
Jump to Section
OxyContin addiction and abuse has enormously contributed to the opioid epidemic in the U.S., particularly in Ohio, where there is a slightly higher number of opioid prescriptions administered than across the country as a whole. OxyContin, or extended-release oxycodone, is a strong prescription opioid used to manage chronic and severe pain. However, opioids like OxyContin are addictive, and misuse can lead to addiction, substance use disorder and even death.
OxyContin and other opioids pose a major problem in the state of Ohio. In 2018, Ohio medical providers wrote 53.5 opioid prescriptions for every 100 people. At this alarming rate, it may not come as a surprise that the state of Ohio saw 11.01 opioid overdose deaths per 100,000 people in the second quarter of 2020.
According to available data, just over 70,000 Americans die from drug overdoses each year, with opioids being involved in most cases. There has also been a trend of increased deaths from prescription opioids since 1999, according to the CDC.
OxyContin drug treatment is available and can help many patients through an opioid use disorder. Individuals struggling with OxyContin should seek treatment in a professional detox facility and an OxyContin drug rehab program.
For those in the central Ohio area, The Recovery Village Columbus provides comprehensive OxyContin addiction treatment. We offer a full continuum of care, including medical detox, inpatient and outpatient OxyContin rehab, intensive outpatient services, teletherapy and partial hospitalization programming. We also offer aftercare services, so our patients remain connected to the recovery community.
At The Recovery Village Columbus, we employ an expert team overseen by a board-certified psychiatrist, and we offer evidence-based treatment programs. You can have confidence in our services, as we are accredited by numerous organizations, including The Joint Commission. In addition, our well-appointed inpatient facility offers a variety of amenities, including two gyms, a recreation room and an art studio.
Importance of Drug Treatment
OxyContin can be dangerous when misused, so it's essential to seek treatment as soon as you recognize there may be a problem. While you can try to detox from OxyContin at home, this has its own risks. Opioid withdrawal symptoms, like nausea, vomiting, diarrhea, muscle pain and sweating, can range from uncomfortable to life-threatening. Enlisting the help of medical professionals at a treatment center is the best way to detox from OxyContin safely and decrease your chances of relapse. Seeking treatment at a certified facility increases your OxyContin rehab success rate and promotes overall healthy living as you continue on your recovery journey.
Rehab for OxyContin Addiction
Several types of opioid rehab programs have been established. These programs range from minimal to constant medical care, with various treatment options. Because every patient is different, you should choose an OxyContin treatment center and rehab program that meets your specific needs. In general, you can expect Ohio OxyContin rehab programs to utilize interventions such as medication-assisted treatment, individual and group counseling, and referral to services like peer support groups.
Taking a multidisciplinary approach can be crucial when treating an OxyContin use disorder. Drug addiction can often coexist with other conditions, including mental health conditions like depression, for example, or physical health issues like high blood pressure.
Medical Detox for OxyContin
Detox is the first part of recovering from an OxyContin use disorder. Typically, medical detox is done in an inpatient setting, which is characterized by constant care at the facility rather than allowing the patient to stay at home or elsewhere. Here, patients receive around-the-clock care from trained medical professionals, who may give medications to help ease uncomfortable withdrawal symptoms.
Buprenorphine and methadone are often used in medical detox for OxyContin. These drugs interact with the brain's opioid receptors but without causing pleasurable effects. Methadone and buprenorphine are not as strong and fast-acting as other opioids, which means they do not create the same high that leads to addiction.
Inpatient Rehab OxyContin Addiction
Inpatient rehab typically follows medical detox procedures. While in inpatient care, patients remain at the facility under constant supervision, ensuring there are no distractions that may get in the way of their health and recovery. Because the patient is not surrounded by potential drug triggers, inpatient care can greatly reduce the risk of relapse.
This intensive stage of recovery focuses on defining treatment goals and building the skills necessary to achieve them. Patients will meet with doctors, psychiatrists and psychologists during this time to build and work toward their individual goals while maintaining sobriety in a safe setting.
Partial Hospitalization Program (PHP) for OxyContin Addiction
A partial hospitalization program (PHP) is typically the next step in addiction recovery after medical detox and inpatient rehab. Unlike medical detox or inpatient treatment, patients receive therapeutic services at our facility during the day but will return home at night.
Before beginning PHP, you typically have:
Completed medical detoxification and/or residential care
The capacity to fully participate in therapy
Reasonable expectations for improvement
A solid support system at home or in the community
At The Recovery Village Columbus, patients enrolled in PHP complete approximately 20 hours of evidence-based treatment per week spread out among 5–7 days. Patients also engage in several different types of therapy, including medical assistance, group meetings, 12-step programming and mental health therapy sessions.
Outpatient Rehab for OxyContin Addiction
Generally, the next step in the rehabilitation process is outpatient rehab. The patient may first participate in an intensive outpatient program before entering outpatient drug rehab, allowing a transition from inpatient to outpatient care.
Outpatient drug rehab allows patients to live at home and travel to a treatment facility for scheduled medical visits and counseling. Outpatient rehab helps you work toward recovery while you maintain your daily responsibilities, like school or work. In some cases, people who have a strong support system and a less severe addiction may begin with outpatient services after completing a detox program.
Dual Diagnosis and Co-Occurring Disorders
People who struggle with a substance use disorder may also be living with a psychiatric or mental health condition, such as depression or an anxiety disorder. In some instances, drug use may lead to the development of a mental health disorder. Co-occurring disorders, sometimes referred to as dual diagnosis, can make OxyContin addiction more difficult to treat, and about half of those who have a substance use disorder also experience mental illness.
Dual diagnosis treatment centers use a multidisciplinary approach to address both mental health and addiction at the same time. This sort of treatment plan focuses on treating both disorders as the patient navigates through each level of care. At The Recovery Village Columbus, we are equipped to treat co-occurring disorders with comprehensive treatment plans individualized to each patient's needs.
Aftercare
Treatment centers may offer aftercare for patients who have successfully completed drug rehab to help them lead healthy lives after treatment. Drug rehab aftercare typically consists of continuing group or individual therapy. Support groups can also help people avoid relapse after completing treatment. Some aftercare programs even offer job training and placement services, as well as other resources that help patients navigate life outside of rehab. Longer addiction treatments are proven to ensure better outcomes for patients, making aftercare important for lasting sobriety.
How Long Is Rehab for OxyContin?
The amount of time that drug rehabilitation takes depends largely on the individual. Most facilities offer programs of different lengths, depending on how long each person needs. Programs can be as short as one month or as long as six months. Some programs don't have a set period of time and conclude whenever a patient and their medical providers feel they have reached their goals. In general, most patients require at least three months in treatment to have the best results, but some people may need a longer duration of services.
How Much Does OxyContin Rehab Cost?
Drug rehab cost varies greatly depending on the facility, the amenities, the type and length of your program, and your insurance provider.
Does Insurance Cover Rehab for OxyContin Addiction?
Insurance coverage for OxyContin addiction depends on the insurance company and the specific treatment center. Some insurance providers provide a set list of rehab centers and programs that they will cover, but if the facility you want to go to isn't on that list, you may have to pay out of pocket.
However, going to drug rehab without insurance doesn't always mean you'll pay out of pocket. Many centers offer a few other payment options:
Free recovery programs: Some are faith-based, and overall these programs will not be as comprehensive as other facilities, but they offer rehab care at no charge.
Government assistance programs: This includes rehab centers operated or subsidized by government programs.
Employee assistance programs: Some workplaces provide mental health and addiction resources for their employees.
Sliding fee programs: In this situation, the cost of treatment is based on a patient's income.
If you're searching for Ohio OxyContin rehab, the Substance Abuse and Mental Health Services Administration provides a search tool. This free tool can help you locate treatment centers and learn more about the types of payment accepted by each center and whether or not they offer financial assistance.
At The Recovery Village Columbus, we are in-network with most insurance companies to help reduce your out-of-pocket costs. We can also create a custom payment plan to help you comfortably pay for Ohio OxyContin addiction treatment. You deserve treatment and life-long recovery. Contact us today.
Sources
National Institute on Drug Abuse. "Ohio: Opioid-Involved Deaths and Related Harms." April 3, 2020. Accessed December 5, 2021.
U.S. Food and Drug Administration. "Medication Guide: OXYCONTIN." August 2015. Accessed December 5, 2021.
Centers for Disease Control and Prevention. "Understanding the Epidemic." March 17, 2021. Accessed December 5, 2021.
National Library of Medicine. "Opioid Misuse and Addiction Treatment." MedlinePlus, August 20, 2020. Accessed December 5, 2021.
National Institute on Drug Abuse. "Comorbidity: Substance Use Disorders and[…] Illnesses DrugFacts." August 2018. Accessed December 5, 2021.
National Institute on Drug Abuse. "Medications to Treat Opioid Use Disorder Research Report." December 2021. Accessed December 5, 2021.
National Institute on Drug Abuse. "Principles of Drug Addiction Treatment: […]ide (Third Edition)." January 2018. Accessed December 5, 2021.
Shah, Mansi, and Huecker, Martin R. "Opioid Withdrawal." National Center for Biotechnology Information, October 11, 2021. Accessed December 5, 2021.
Ohio Attorney General. "Record Surges in Opioid Overdoses Pro[…]t to Urge Vigilance." January 11, 2021. Accessed December 5, 2021.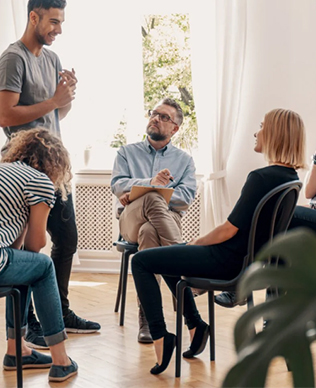 Questions?
Our Recovery Advocates are ready to answer your questions about addiction treatment and help you start your recovery.