Adderall Addiction Treatment & Rehab in Ohio
Last Updated: January 24, 2023
Jump to Section
Adderall is one of the most commonly prescribed ADHD medications in the country, with over 17 million prescriptions written in 2016. In 2018, approximately 5.1 million people over the age of 12 met criteria for having a prescription stimulant use disorder, and those aged 18 to 25 had the highest rate of misuse. In Ohio, Adderall is the most commonly misused prescription stimulant due to widespread illicit use and moderate to high availability across the state.
Adderall increases levels of the neurotransmitter dopamine, which can cause addiction to develop. Drugs that artificially increase dopamine cause high activity in the brain's reward system, motivating further use. Even when taken as prescribed, Adderall can rapidly lead to dependence and addiction.
Regular Adderall use also causes tolerance, meaning that ever-increasing doses are required in order to achieve the desired effect. As tolerance develops, the brain undergoes chemical changes and begins needing Adderall in order to function normally. This is known as dependence, and it causes physical and psychological withdrawal symptoms to occur when the drug is absent from the system. Dependence can lead to addiction, which is characterized by the inability to control obsessive drug-seeking behavior despite negative consequences.
Adderall Treatment Options
Many treatment options are available for Adderall use disorders, but there are several factors to consider when choosing an appropriate rehab program. The first step toward recovery is to undergo an evaluation at a high-quality rehab facility that is experienced in treating prescription stimulant use disorders. Look for facilities that employ multidisciplinary teams of addiction experts, as they can help address the many different physical and psychological aspects of recovery.
Medication-Assisted Treatment
The first stage of recovery is a detox period in which Adderall is purged from your system. This period can be difficult and is associated with a variety of uncomfortable withdrawal symptoms. These symptoms can last anywhere from several days to several months, depending on the severity of the addiction. Symptoms include:
Cravings
Fatigue
Depression
Lack of pleasure
Irritability
Medical detox is helpful for people who are in early recovery from Adderall addiction. Medical detox takes place under the 24/7 care of medical professionals who can intervene in the case of complications, address concerns as they arise and provide medications to relieve withdrawal symptoms. Medical detox usually involves a tapering regimen, which can substantially reduce the severity and duration of Adderall withdrawal symptoms.
Inpatient Rehab
The first weeks of recovery are usually the most difficult. For many people, inpatient programs are the best way to achieve early success and avoid relapse. Inpatient programs are also often referred to as residential drug rehab.
At The Recovery Village Columbus, clients have access to cutting-edge rehab therapies, including mental and spiritual wellness programs, equine therapy and other evidence-based methods. We provide a safe and comfortable environment, high-quality meals and a caring staff that is well-versed in all aspects of recovery.
Partial Hospitalization Program
Partial hospitalization programs (PHPs) offer a transition step for people who have completed an inpatient program and are preparing for an outpatient program. Many people find it helpful to continue therapeutic services as they begin transitioning to an independent, sober lifestyle. PHP programs can be especially beneficial for people who have co-occurring mental health disorders that are still being treated.
PHP requirements vary between rehab centers. At The Recovery Village Columbus, clients live off-site or in a sober living facility and dedicate 18–20 hours per week to treatment. Treatment includes individual and group therapy sessions as well as more holistic approaches, such as yoga or equine therapy. For some people with moderate Adderall use disorders, the journey to recovery may begin with a PHP.
Overcome addiction with evidence-based, expert care.
Outpatient Rehab
There are several types of outpatient drug rehab programs, ranging from intensive outpatient programs (IOPs) to bi-weekly or weekly therapy sessions. IOP provides a smooth transition from inpatient programs or PHPs to a program that still provides the support and management of a full-service rehab facility. However, outpatient rehab also gives clients the flexibility to transition back to life outside of the rehab center. At The Recovery Village Columbus, IOP clients dedicate at least nine hours per week to therapy.
Outpatient rehab can take a less intensive form as well. Clients who participate in the outpatient program at The Recovery Village Columbus do not live on site. However, they do have access to medical professionals and addiction experts whenever questions or concerns arise. Clients participate in several therapy sessions per week while maintaining work, family and life responsibilities. Outpatient rehab requires a high level of responsibility from clients, as they will be expected to maintain sobriety even if they face triggers.
For people with mild Adderall dependence, starting with an IOP or outpatient program may be enough to get started on the path to recovery. However, it is important for clients to be honest when being evaluated on their level of addiction. The early weeks of recovery are often the most challenging and have the highest relapse rates. Unless you have a strong outside support system and are confident that you can say no to triggers, starting with a more intensive program may be the most appropriate course of action.
Dual Diagnosis and Co-Occurring Disorders
Many do not realize that people with addiction often struggle with co-occurring mental health disorders. Adderall misuse may mask symptoms of depression, anxiety or unresolved emotional trauma. Adderall misuse may also be indicative of an eating disorder.
At The Recovery Village Columbus, our experts are able to evaluate whether dual diagnosis treatment is appropriate. If it is, they can tailor a comprehensive rehab program that addresses the Adderall use disorder as well as the co-occurring disorder. Many people with undiagnosed mental health disorders find that dual diagnosis treatment helps them manage their mental and emotional well-being without the need for Adderall.
Aftercare
Maintaining long-term sobriety in life after rehab requires regular maintenance. The people who are most successful in recovery are proactive about maintaining relationships with people who are invested in their success.
After completing certain rehab programs, clients at The Recovery Village Columbus will begin individualized aftercare programs that support lifelong sobriety. Throughout aftercare, clients will be able to bolster their recovery through follow-up appointments, alumni events, peer support group meetings, relapse prevention planning and more. Many people who have achieved sobriety find that aftercare is an invaluable resource for lasting healing and growth following rehab treatment.
How Long Is Treatment for Adderall Addiction?
It is difficult to estimate how long each person's Adderall rehab program will be. For mild dependence issues, a short outpatient program may be enough to allow for long-term recovery. More serious addictions typically require long-term drug rehab. These programs include medically assisted detox, residential care and intensive outpatient programs that become more flexible as recovery progresses.
How Much Does Drug Rehab Cost?
The costs associated with Adderall rehab can be difficult to estimate. Factors that influence the overall cost of rehab include the degree of addiction and whether additional medical interventions are required. Broad estimates of the cost of a 30-day rehab program include:
Residential rehab: A bare-bones program may cost less than $10,000, while luxury programs can cost well over $25,000. More expensive programs provide access to amenities like comfortable housing, quality meals and classes that promote fitness and mental well-being.
Partial hospitalization: Different rehab facilities have vastly different partial hospitalization programs, and costs may run anywhere from $7,000 to over $20,000.
Intensive outpatient rehab: These programs typically expect clients to participate in several hours of therapy per week and may require them to live on-site. The costs vary quite a bit between programs and may run anywhere from $3,500 to $11,000.
Outpatient rehab: Outpatient programs range from free programs to full-service treatment plans that can cost $10,000 or more.
Other costs that may be associated with rehab include:
Admissions fees ($3,000 to $4,000)
Medical detox ($300 to $800 per day)
Any medical care on top of rehab
Aftercare, which can range from free 12-step programs to pricey sober living communities
Does Insurance Cover Rehab for Addiction to Adderall?
In most cases, insurance plans (including Medicaid) will help to reduce the costs of Adderall rehab. The Recovery Village Columbus is able to work with most providers. Contact us today to find out if your insurance plan covers rehab with us.
Drug rehab without insurance is also possible. Ohio provides assistance to people who are looking for affordable rehab options. In addition, many rehab centers offer grants, scholarships and sliding fee scales to accommodate people from a range of income brackets.
Importance of Drug Treatment
It can be difficult to recover from addiction on your own. Participating in a quality rehab program offers many benefits, including the opportunity to interact with peers. For many people, knowing that they are not alone in recovery can be incredibly comforting.
Participating in therapy sessions is an invaluable way to confront the reasons for your Adderall misuse and identify why sobriety is important to you. By working with addiction experts, you will be able to develop realistic expectations and create short- and long-term goals for your recovery. In addition, you can develop effective coping strategies and new tools for managing sobriety and avoiding triggers. Many people find that they develop a strong support network in rehab and often make lifelong friends.
One of the most valuable parts of rehab is its ability to help prevent relapse. Relapse rates after drug rehab have been shown to be significantly higher in people who did not receive professional treatment. Although statistics specifically for Adderall relapse rates are not yet available, studies on alcohol relapse have found that people who seek professional treatment have a significantly higher likelihood of maintaining long-term sobriety. For example, one study found that three-year sobriety rates for people with alcohol addiction were higher for people who sought professional treatment (62.4%) than those who did not (43.4%).
Finding an Adderall Treatment Center in Ohio
There are several important factors to consider when evaluating rehab programs:
Location: The closest facility may be the most convenient, but it might not necessarily be the best one for you. Don't be afraid to look at programs that are farther from home.
Cost: Unfortunately, cost is a factor when finding the right rehab program. Look for a rehab center that accepts your insurance plan. Many programs offer grants, scholarships and sliding fee scales to keep out-of-pocket costs manageable.
Treatment options: Comprehensive rehab facilities provide medically assisted detox, residential programs, outpatient programs and aftercare. The facility you choose should have experience with treating prescription stimulant use disorders.
Success rates: Facilities that provide success rates and client endorsements can be informative as you make your decision. However, be skeptical of programs that state they have 100% success rates.
Treatment duration: Treatment duration should be based on your progress instead of on a predetermined schedule. Quality facilities tailor their programs to your needs, not the other way around.
Staff-to-patient ratio: A low staff-to-patient ratio ensures that you will have access to staff and that all of your needs will be met.
Accreditation: Most quality programs will be accredited by either The Joint Commission or CARF International.
The Recovery Village in Columbus, Ohio, is a full-service rehab facility that provides treatment programs tailored to suit your needs. We use evidence-based treatment plans that encourage healing and long-term sobriety, and we are fully committed to your success in recovery.
If you or someone you love is struggling with Adderall addiction, The Recovery Village Columbus is an ideal place to start your path to recovery. Our experts understand addiction and can help you achieve a healthier, drug-free life. Contact us today to learn more about Adderall addiction treatment programs that can work well for your needs.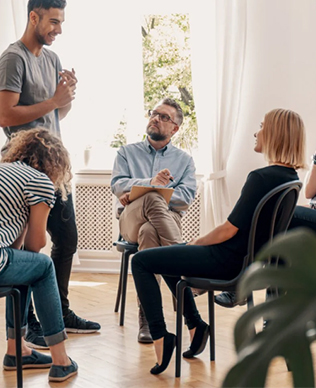 Questions?
Our Recovery Advocates are ready to answer your questions about addiction treatment and help you start your recovery.