Suboxone Addiction Treatment and Rehab
Last Updated: October 26, 2022
Jump to Section
Article Overview
Even though Suboxone is used to treat opioid addiction, people can become addicted to Suboxone itself.
Even people who take Suboxone as prescribed may need some medical detox help when experiencing withdrawal.
Suboxone addiction centers offer a variety of different rehab program types of varying length and intensity.
There are a variety of ways of accessing and paying for addiction treatment, with or without insurance.
Addiction rehab offers the very best opportunity for successful long-term recovery and a return to good health and function
Understanding Suboxone Addiction Treatment & Rehab
Suboxone is a brand-name prescription drug used for treating opioid dependence. It contains the opioid buprenorphine and the opioid blocker naloxone (Narcan).
Although Suboxone is used to help people recover from their addiction to opioids, people may become dependent upon it as well. In fact, Buprenorphine, the opioid in Suboxone, is by far the most abused prescription opioid in America. But how can a drug used for treating addiction itself become an addiction?
Data from addiction studies show that Suboxone often has an unusual pattern of abuse among people who use the drug to fuel their opioid addiction. What is unusual about Suboxone abuse is that although some people abuse it to try to get high, most (about 74%) obtain it illegally to try to manage their own opioid withdrawal.
Many individuals manage their opioid dependency by keeping their Suboxone on hand to manage withdrawal symptoms when they do not have their drug of choice, a rather dysfunctional arrangement. Still others legitimately try to stop their opioid use by using Suboxone that they obtained illicitly.
However, one of the core characteristics of addiction is an inability to control drug use. So, people who try to manage their own withdrawal by using Suboxone almost invariably end up in a dysfunctional spiral of drug use alternating with Suboxone use.
But Suboxone can also be abused in the same way as other opioids. About 16.3% of people receiving prescriptions for a buprenorphine-naloxone combination drug (such as Suboxone) report having used it IV to get high in the past month.
Regardless of how they got there, the fact is that a lot of people abuse Suboxone and need help to break free from their addiction. Fortunately, there is help available for those who are ready to accept it.
Addiction Treatment Options
People who are struggling with addiction to Suboxone and/or other opioids may wonder how to get off Suboxone. The most fundamental advice is to not try to do it on their own.
Substance addiction is characterized by a pathological psychology that includes a deep need for control, a tendency to rationalize bad decisions and a lack of objective self-insight. This combination of dysfunctional thinking propels many people to overestimate their ability to stop using drugs on their own, and a stubborn refusal to accept help.
As such, they may be reluctant to see and admit that they require help with their addiction, and they may underestimate the level of care they should receive. For these reasons, it may be wise for them to seek advice from others when making decisions about treatment program options.
There are different options for Suboxone treatment, with differing levels of care provided. The choice of type of program should be primarily based on what will afford a given individual the best opportunity for success in recovery. All other considerations – even very important things like job, family, and responsibilities – should be secondary. Without successful recovery, all those things may be in jeopardy.
Medical Detox
To recover from Suboxone or other opioid use, people must first go through the process of ridding the body of the active substances and their toxic metabolites. This process is known as detoxification, or detox. As the body clears the substances, the unpleasant experience of withdrawal occurs.
Medical detox involves staying at a Suboxone detox center during the withdrawal period. There, people have the benefit of proper medical supervision, with or without medications, to withdraw safely and comfortably from Suboxone and/or other substance use.
Medical detox also has other advantages. It gives individuals the benefit of professional assessment for the physical and mental effects of their drug use, and to identify and discuss the presence of other substance use and mental health disorders. This leads to a comprehensive treatment and recovery plan for optimal recovery and return to good health and function.
How long does it take to detox from Suboxone? The duration and severity of the withdrawal symptoms during detox depend upon a number of individual factors, but in general, the most difficult (acute) symptoms last about one week.
Residential Rehab
Residential Suboxone rehab involves staying at a drug rehab center during the course of the treatment. This removes individuals from normal day-to-day life so that they can focus their attention on recovery and healing without the stressors, distractions and triggers of normal home life.
Residential rehab has benefits that improve the transformative effect of treatment:
Removal from the people, places and things that were associated with the substance use, thereby preventing triggers
Removal from any toxic relationships or environments
Allowing for a more intensive, committed treatment regimen
Providing a social environment, or a "culture of recovery"
Ensuring that participants have some solid recovery time by the time of discharge
Outpatient Rehab
Outpatient drug rehab involves living at home or in a sober living house and attending treatment activities during the day. Most people with Suboxone or opioid addiction will likely have better outcomes with a residential program. However, outpatient rehab may be appropriate if:
The individual's physician is aware of the drug use and agrees with outpatient treatment
The individual is already detoxed from the drug and is free of withdrawal effects
The drug use was mild or of short duration
The person has a safe, drug-free place to stay away from dealers and others who use substances
The individual is strongly motivated to stop using
There is no co-occurring substance use or mental health disorder
There is a good support system in place
The individual does not live alone
As well, outpatient rehab may be an attractive option for those who find the cost of residential rehab prohibitive.
Dual Diagnosis
Dual diagnosis is the term used to describe a co-occurring substance use disorder and a mental health disorder. Dual diagnosis is present in more than half of people with substance addiction. Many of these people are not even aware of it, or have never been diagnosed or treated.
Substance addiction and mental health disorders are closely tied together, with similar genetics and risk factors, and one can cause the other. Many people who develop substance addiction began their substance use in an effort to "self-medicate" mental health symptoms. The course of the mental health disorder and the addiction are usually both worsened when they co-occur.
Because of this, identifying and treating dual diagnosis is crucial to success in recovery and a return to good health and function. This makes a specialized dual diagnosis rehab program equipped to deal with both issues especially important.
Aftercare & Sober Living
There is no "cure" for addiction. Even those who succeed in living drug-free for the rest of their lives are not cured; rather they get a daily reprieve from their addiction based on their efforts to maintain recovery and prevent relapse. This is similar to other illnesses, such as diabetes, that also require ongoing care.
Recovery gets easier with time, but long-term recovery requires ongoing attention. Rehab provides the tools for doing that, including putting together a plan for aftercare.
Drug rehab aftercare programs may involve a number of activities, and can be tailored to each individual's needs:
Healthcare, maintenance of medications
Continued individual or group counseling
Support groups
Follow-up for any co-occurring substance use or mental health disorders
Relapse prevention training
How Long Does Rehab Take?
How long is rehab for drugs? The answer can vary depending on the circumstances. The length of the treatment program is primarily determined by the type of program, such as residential vs. outpatient, but even those program lengths may differ between various facilities. On average:
Detox is usually around seven days
Residential programs average 21 to 90 days
Long-term residential care programs are usually three to 12 months
Outpatient programs depend on the intensity of the program, but they usually range from a few weeks to three months
According to data from the U.S. Substance Abuse and Mental Health Services Administration (SAMHSA), the average length of stay in drug rehab is:
90 days for outpatient medication-assisted opioid therapy
78 days for non-intensive outpatient treatment
42 days for intensive outpatient treatment
39 days for long-term residential treatment
Five days for medication-assisted opioid detoxification
What Does Suboxone Rehab Cost?
Leaving a substance addiction untreated can be costly. Many people lose their job, home, family, savings, and even their health or their life. However, paying for drug rehab is nonetheless a factor for most people, and affordability and coverage must be a good fit.
How much does rehab cost? The costs can vary depending on the specifics of program needs. For a review of our own projected rehab costs, see the Recover Village Columbus's online pricing guide.
Does Insurance Cover Rehab?
Many insurance plans cover the costs of substance use treatment completely. Speaking with an insurance provider or a representative from The Recovery Village Columbus is a good place to start when looking into insurance coverage. Our online rehab insurance verification tool can help to work out viable options.
The Affordable Care Act requires that all marketplace insurance plans provide coverage for mental health and substance use treatment. Providers cannot deny coverage for mental health or substance use disorders, even if they are pre-existing conditions.
People who attend rehab without insurance may still be eligible for partial coverage or payment plans. Please contact The Recovery Village Columbus for guidance on various alternative options for paying for treatment, such as:
Coverage from private health insurance
Payment plans
Crowdfunding or fundraising
Treatment scholarships, grants, or loans
The Affordable Care Act
State and local government programs
SAMHSA grants
Prospective patients may contact their local Department of Health and Human Services to find out more about coverage for addiction treatment from various programs, such as:
The Mental Health Parity and Addiction Equity Act (MHPAEA)
Medicaid
Medicare
State, regional or city programs
Choosing a Rehab Facility for Suboxone Abuse
It can be challenging to figure out how to choose a rehab center. Sometimes people in active addiction do not have a clear mind and may lack objectivity, so involving family, friends and/or health care providers in the decision may be wise.
Although the tendency is to look for a program close to home, many people find it advantageous to be away from home for treatment, so that they are completely removed from distractions and are better able to focus their entire attention on their treatment.
What Happens After Rehab?
According to the U.S. National Institute on Drug Abuse, relapse rates after rehab can be as high as 40-60%. However, those who succeed are usually those who take care to prevent relapse. Maintaining recovery requires an ongoing effort and presence of mind that reminds individuals that relapse is always only an arm's length away.
What to expect after drug rehab? It is typical of the psychology of addictions that as people progress in recovery they may begin erroneously believing that they can use again, that THIS time it will be different, that THIS time they will be able to control it. By keeping involved in recovery activities for the long term, people are much more likely to keep their head in the game and maintain their recovery.
How Rehab Improves Recovery
Research and experience have shown that most who attend treatment succeed in stopping their drug use, and function better in life socially, occupationally and in terms of physical and mental health.
Without treatment, remaining abstinent from drug use becomes a matter of pure willpower, and experience has shown that willpower alone is not an effective deterrent to drug abuse. Treatment allows individuals to counteract the powerful effects of addiction on the brain.
Rehab techniques have been developed over decades and are based heavily on research evidence. Treatment doesn't focus on treating the disease; rather, the focus is on treating the whole person – the biological, psychological, social and spiritual (not religious) – aspects of compulsive drug use. The experience is transformative, allowing many to find that their desire to use drugs fades. Willpower is taken out of the equation.
Most people find rehab to be a life-changing experience for reasons that go well beyond the fact that they are finally freed from substance addiction. They learn things about themselves that give them clarity on where they fit in the world and how to live life and handle its stressors better than they ever could before without drugs. Many people are able to confront and deal with traumatic issues that have haunted them for many years and which played a major role in their addiction.
When people detox from Suboxone or other drug use at The Recovery Village Columbus, our team of addictions professionals provide the care and expertise for a safe withdrawal in a supportive environment. If you wish to discuss substance addiction in yourself or a loved one please feel free to contact us for a confidential discussion with one of our staff.
Sources
Bazazi, Alexander; Yokell, Michael; Fu, Jeannie; et al. "Illicit use of buprenorphine/naloxone am[…]ecting opioid users." Journal of Addiction Medicine, September 2011. Accessed August 16, 2019.
HealthCare.gov. "Mental health & substance abuse coverage." Undated. Accessed August 16, 2019.
Lofwall, Michelle; Walsh, Sharon. "A review of buprenorphine diversion and […]om around the world." Journal of Addiction Medicine, September-October 2014. Accessed August 16, 2019.
National Institute on Drug Abuse. "Comorbidity: Addiction and other mental illnesses." Research Report Series, September 2010. Accessed August 16, 2019.
Prunty, Leesa; Prunty, Jeremy. "Acute opioid withdrawal: Identification and treatment strategies." U.S. Pharmacist, November 17, 2016. Accessed August 16, 2019.
Skewes, Monica; Gonzalez, Vivian. "Biopsychosocial model of addiction." Principles of Addiction, 2013. Accessed August 16, 2019.
Substance Abuse and Mental Health Administration (SAMHSA). "National Survey on Drug Use and Health 2017." September 2018. Accessed August 16, 2019.
Substance Abuse and Mental Health Services Administration (SAMHSA). "Treatment episode data set (TEDS) 2017." April 2019. Accessed August 16, 2019.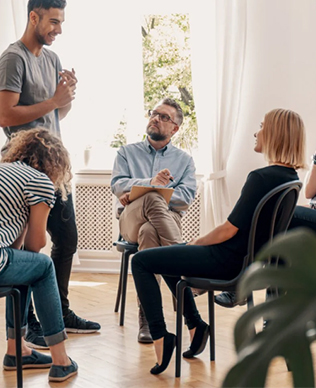 Questions?
Our Recovery Advocates are ready to answer your questions about addiction treatment and help you start your recovery.