Trazodone Addiction Treatment and Rehab in Ohio
Last Updated: January 24, 2023
Jump to Section
Trazodone is an atypical antidepressant that is often prescribed off-label to treat insomnia. Although trazodone has not been shown to have the potential for abuse or addiction, like other antidepressants, abrupt cessation of trazodone can cause "antidepressant discontinuation syndrome" (ADS). The mechanisms underlying ADS remain an area of active study and it is difficult to predict how quitting an antidepressant will affect an individual.
It has become clear that daily antidepressant use for eight weeks or more can lead to a physical dependence that makes quitting difficult.
A recent study that evaluated the reality of antidepressant use in the United States and the United Kingdom found that, in contrast to clinical guidelines that are often dismissive of ADS, it can be very difficult to change or quit antidepressant use. Antidepressants are not addictive in the sense that heroin is; no one on antidepressants would pursue them at the expense of their own wellbeing and that of their loved ones. That does not change the fact that antidepressants are associated with some degree of physical dependence that has been largely ignored by the medical community for decades.
Although trazodone is not associated with the most severe ADS symptoms (that distinction goes to paroxetine — brand name Paxil), it can nonetheless be challenging to quit.
Trazodone Treatment Options
For many people, a quality rehab program provides the support and structure they need in order to overcome the early days of trazodone withdrawal. Most facilities offer several programs, including:
How Long is Trazodone Treatment?
It is difficult to predict how ADS will affect an individual. Some people who quit trazodone abruptly do not experience any withdrawal symptoms, while others have symptoms that persist for weeks. There are very few published reports detailing trazodone withdrawal. The ones that do exist generally report that withdrawal symptoms subside within two to three weeks, although one case study describes a man who had symptoms that persisted for 50 days. Anecdotal reports often suggest that the withdrawal period can continue for several months. In all cases, symptom severity gradually abates over time.
How Much Does Trazodone Rehab Cost?
Rehab costs vary depending on the duration, intensity of the program, quality of care and whether medical interventions are required. A 30-day residential program that includes medically supervised detox can cost anywhere from a few thousand dollars to well over $25,000 for a luxury program. A 30-day partial hospitalization and intensive outpatient programs can cost anywhere from a few thousand to tens of thousands of dollars. Outpatient care may cost anywhere from $1,000 to $10,000 for 30-days. Other costs may be associated with a rehab program, including admission fees, costs for medical services, and enrollment in aftercare programs. As with duration, because trazodone withdrawal affects individuals differently, it is difficult to estimate a cost for trazodone rehab.
Does Insurance Cover Rehab for Trazodone Addiction?
There are many insurance policies (including Medicaid and Medicare) that can help offset the cost of rehab. Rehab without insurance is possible in many cases. Options for financing rehab without insurance include:
Government Assistance Programs: Many states, including Ohio, offer funding assistance or state-run programs for people seeking rehab.
Sliding Fee Programs: Sliding fee scales that are based on income allow private rehab facilities to help people from all income levels.
Private Pay Programs: These luxury programs are often exclusive treatment centers for those who can afford to pay thousands of dollars out-of-pocket.
Unfortunately, most people who need rehab services cannot afford the incredibly high out-of-pocket costs associated with private pay programs. Some people have come up with creative ways to fund their treatment, such as using GoFundMe or Kickstarter.
Importance of Drug Treatment
Quitting trazodone is always best done with a carefully designed tapering protocol. Regardless of whether you seek extensive inpatient or outpatient care, it is important to consult with a medical professional who can personalize a tapering dose that suits your lifestyle. Working with a specialized rehab center that provides access to medical professionals whenever questions or concerns arise is often very helpful, especially in the early stages of withdrawal. Although there are no approved pharmacological interventions to help trazodone withdrawal, an experienced rehab center can determine how to best treat you and may be able to provide pharmacotherapies that ease withdrawal symptoms.
Finding a Trazodone Treatment Center in Ohio
When choosing a treatment center, there are a number of considerations to keep in mind. Trazodone withdrawal symptoms can be frustrating, and having an experienced multidisciplinary team who can address the physical and psychological aspects of your symptoms will let you focus on recovery. Below are some tips that will help you choose the right rehab facility for you:
Location: The best facility for you might not be the closest one. Many people find they are more successful when they choose a program that is not close to home.
Cost of rehab: Rehab can be expensive. Look for programs that are in your insurance network to help defray costs. Many rehab facilities offer sliding pay scales, grants or scholarships in order to help people in all income levels. Ohio has programs that can assist residents who are seeking rehab treatment.
Treatment methods: Trazodone withdrawal can affect people in unpredictable ways. The best way you can make sure you get the treatment you need is by finding a rehab facility that can address every aspect of your treatment, from physical ailments to psychological struggles. Look for a multidisciplinary team with experience treating antidepressant discontinuation syndrome.
Reviews and success rates: Many rehab programs provide statistics and client endorsements. Be cautious of programs that report 100% success rates.
Duration of treatment: Trazodone withdrawal symptoms are unpredictable. They may last for a week, or they may persist for a month or more. Look for programs that are flexible and tailor their plan to fit you, not the other way around. Quality rehab facilities are also proactive about your long term success. Aftercare programs can be a valuable part of your recovery.
Staff-to-patient ratio: Residential facilities should have low staff-to-patient ratios in order to ensure you have access to the care you need.
Contact The Recovery Village Columbus to speak with a representative about how professional addiction treatment can help your substance use disorder. You deserve a healthier future, call today.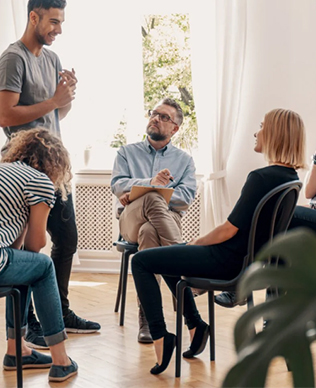 Questions?
Our Recovery Advocates are ready to answer your questions about addiction treatment and help you start your recovery.