Amendment Petition May Help Ohio Addicts Get Treatment Instead of Jail Time
Last Updated: November 10, 2022
Jump to Section
As a leading provider of addiction education and treatment in Ohio, The Recovery Village Columbus is always seeking ways to de-stigmatize drug dependency and to encourage treatment rather than jail time for those whose lives have been affected by this illness.
A new amendment called the Neighborhood Safety Drug Treatment, and Rehabilitation Amendment may help to reduce the number of people locked up in state prisons for low-level drug crimes and instead steer them toward treatment and receive credit for time served. Such an amendment has the power to help Ohioans struggling with addiction disorders get the help they need with less fear about punitive legal actions.
While the amendment is now only in the proposal stages, there are steps those struggling with addiction can take in the meantime to avoid being arrested and get clean.
Understand Addiction Can be Treated
Just like any other illness, there are treatment options for addiction that can have long-term success and improve the quality of your life. In the case of addiction, drug abuse often occurs when someone develops a tolerance to a substance to produce the desired effect and begins to use more of it.
There are many addictive substances available, ranging from alcohol to street drugs or even prescription drugs. In fact, many addicts discover that much like marijuana, opiates and other prescription painkillers can act as gateway drugs for substances such as heroin or fentanyl.
The role of treatment is to break the cycle of substance dependency by dealing with the chemical, emotional, and societal factors that drive addiction. However, it is also important to understand that while addiction is treatable, it is not curable. Much like diabetes or any other chronic, lifelong condition, it can be managed with proper treatment.
Learn About Treatment Options
Taking the first steps to get addiction help can be an empowering experience. One of the most important first steps is familiarizing yourself with the types of treatment that are available. Here is a brief overview of treatment options currently offered at Recovery Village of Columbus.
Medical Detox
Residential Treatment
Partial Hospitalization
Intensive Outpatient Program
Outpatient Programs
Aftercare
At The Recovery Village of Columbus, we understand that recovery is incremental and we will work with you to create a personalized plan that works for your unique needs. Remember that drug treatment is often successful at helping addicts avoid trouble with the law and to live sober, productive lives free of the criminal justice system or other negative consequences that affect their well-being. Contact us now to learn about admission and access our life-saving treatment options today.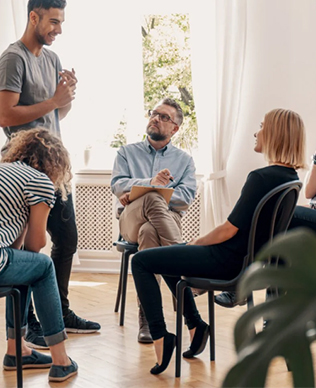 Questions?
Our Recovery Advocates are ready to answer your questions about addiction treatment and help you start your recovery.