A New Day in Ohio: The Recovery Village Columbus Is Now Open
Last Updated: January 17, 2023
Jump to Section
Since 2013, The Recovery Village has been helping people break free from the chains of addiction, substance misuse and behavioral disorders in several states across the nation. And now, this nationwide network is growing with the addition of a fourth facility, The Recovery Village Columbus. With the current opioid epidemic ravaging countless cities and families in Ohio, The Recovery Village brings effective rehabilitation resources to this area of the country in dire need of hope and healing.
The Recovery Village Columbus Grand Opening Celebration
An open house will be held July 11, 2017, from 3 to 6 p.m. to celebrate the grand opening of Columbus' newest treatment center. It will include a ribbon-cutting ceremony and a tour of the facility. The Recovery Village Columbus is located at 3964 Hamilton Square Blvd., Groveport, OH 43125. This event is open to the public, and all are welcome to come see the center.
The Recovery Village Columbus is conveniently located in Groveport, Ohio to serve the entire Buckeye State. With 80 beds and 6.5 acres, Columbus' newest treatment center offers a full continuum of care programs and a variety of healing amenities. The facility is complete with two fitness centers, an on-site chef and recreational and art therapies. By offering state-of-the-art drug and alcohol rehab in Ohio, The Recovery Village seeks to help local residents and out-of-state patients overcome substance use disorders and find life beyond addiction.
Types of Therapy at The Recovery Village Columbus
Just as with all Recovery Village rehabilitation centers, the Columbus facility is designed to transition those struggling with substances toward a healthier way of life. This new treatment center offers inpatient and outpatient drug and alcohol rehabilitation alongside mental illness (co-occurring disorder) treatment. Each program is designed to treat the whole individual, with comprehensive and integrated therapy for the body and mind.
Individualized to meet every patient's specific needs, levels of drug and alcohol treatment at The Recovery Village Columbus include:
The Recovery Village Columbus Amenities
Ohio's first Recovery Village facility offers much more than traditional drug and alcohol treatment.
Meals prepared by an on-site chef
Two fully equipped gyms
Separate men's and women's common rooms
Game room with ping pong, pool table and indoor shuffleboard
Art therapy with a licensed art therapist
Yoga therapy for mind and body
Each program also includes treatment for co-occurring mental health conditions that often accompany substance use disorders. After a comprehensive psychiatric evaluation at intake, every patient at The Recovery Village Columbus can meet with an on-site counselor to better understand and manage:
Mental Health Disorders: Our compassionate counselors help patients work through anxiety, depression, obsessive compulsive (OCD) and bipolar disorders. We also help people cope with post-traumatic stress disorder (PTSD), attention deficit hyperactivity disorder (ADHD) and grief.
Personality Disorders: Our programs include counseling and therapy for illnesses like schizophrenia, borderline, histrionic, narcissistic and dependent personality disorder.
In addition to a wide range of treatment programs and extensive mental health counseling at every level, patients at The Recovery Village Columbus also participate in different modes of therapy. This new facility offers individual and group therapies including cognitive behavior therapy (CBT), dialectical behavior therapy (DBT), 12-Step groups, Back to Basics groups and SMART Recovery meetings. These forms of therapy provide patients with a space where they can work through their thoughts, feelings and experiences with addiction and recovery and support them as they grow in autonomy and health.
As Ohio battles the growing opioid epidemic and nationwide problem of drug and alcohol abuse, The Recovery Village Columbus is there for those in need of help. If you are struggling with addiction, or know someone who is, don't go it alone. Whether you live in Groveport or elsewhere in the country, you're not isolated — help is closer than you think. The Recovery Village has facilities across the country, offers affordable treatment and accepts most insurance policies with private pay rates available. Our caring intake coordinators are here to talk through your situation, answer your questions about drug and alcohol addiction, and refer you to the best treatment possible when you're ready to seek help.
For additional information about The Recovery Village Columbus admittance, call us today. Your recovery is possible — the first step is reaching out.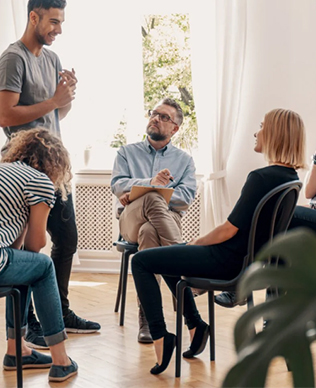 Questions?
Our Recovery Advocates are ready to answer your questions about addiction treatment and help you start your recovery.