Last Updated: January 17, 2023
Jump to Section
A 30-day rehab program is a short-term inpatient treatment option that allows you to establish a solid foundation in recovery with limited time away from home.
If you're living with drug or alcohol addiction, an inpatient rehab program can help you begin your recovery journey. Inpatient programs have you to live onsite at a treatment center and receive around-the-clock care. While enrolled in an inpatient program, you'll be removed from stressors or triggers in your daily home environment to establish a solid foundation of sobriety.
See Related: 60-Day Rehab Program
What Is a 30-Day Rehab Program?
As its name might suggest, a 30-day rehab program is inpatient treatment lasting around one month. This means you will live onsite at a facility for around 30 days while completing your program and following a structured daily schedule.
A 30-day rehab program is generally considered a short-term inpatient stay. Some programs are much longer, lasting three months or more.
What To Expect in a 30-Day Program
While in a 30-day rehab program, you can expect to participate in several different services to help you stay committed to recovery. Each week, you'll:
Participate in individual and group counseling and possibly support group meetings like NA or AA.
Work with a case manager who will oversee your care
See a physician who will prescribe any necessary medications
Attend recreational therapies, including yoga classes, art therapy or time spent in a gym or fitness center.
Since you'll live at a treatment facility, you will receive your meals onsite and have access to medical care as needed. While following a structured daily schedule, you'll also have free time incorporated into your day.
Pros and Cons of Short-term Rehab
Compared to other options for inpatient care, 30-day rehab programs are short-term, with both advantages and disadvantages.
Some pros of a 30-day rehab program include:
Spending only a brief time away from family
Lower cost compared to long-term rehab
Less disruption to your job
On the other hand, the cons of short-term rehab are as follows:
Attending 30-day rehab by itself may not be long enough in rehab care for those with severe addictions.
You'll have to pause your work and home routine to attend treatment.
If you are homeless or do not have a safe living environment, 30 days may not be enough time to establish appropriate living arrangements in the community.
Is 30-Day Rehab Effective?
The truth is that there isn't one treatment option that works for everyone. Some people find 30-day rehab highly effective, whereas others, especially those with more severe addictions, may need to stay in an inpatient rehab program longer.

What is known about rehab is that people generally need to remain in a program for at least three months for treatment to be effective enough to promote lasting sobriety. This includes inpatient care and lower levels of treatment, like outpatient rehab.
30-Day Inpatient Rehab at The Recovery Village
The Recovery Village Columbus inpatient rehab program generally lasts 30-45 days, and can be shorter or longer based on the patient's needs. Your medical team carefully monitors your progress and transitions you to lower levels of care as you recover, so you always have the right balance of support and independence.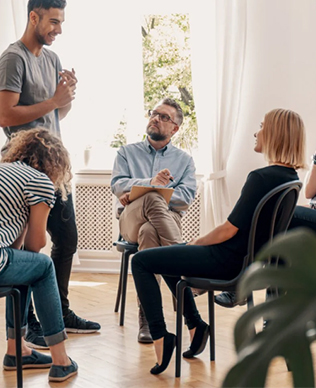 Questions?
Our Recovery Advocates are ready to answer your questions about addiction treatment and help you start your recovery.