60-Day Drug and Alcohol Rehab Program
Last Updated: January 31, 2023
Jump to Section
A 60-day rehab program is a midpoint between short-term inpatient rehab, which is about 30 days, and long-term inpatient rehab programs, which last three months or more.
Many options are available when seeking a drug and alcohol treatment program. Among these are 60-day rehab programs, which can help establish a solid sobriety foundation.
What Is a 60-Day Rehab Program?
A 60-day rehab program is a moderate-term inpatient treatment lasting around two months. Inpatient programs require patients to live on-site at a treatment facility; in this case, it means patients stay there for around 60 days without returning home at night.
If you're interested in 60-day rehab programs, it's helpful to understand they are a midpoint between short-term inpatient rehab, which lasts around 30 days, and long-term inpatient rehab programs, which can last three months or longer. A 60-day inpatient rehab program can be a suitable option for someone needing more than 30 days to become medically stabilized but who cannot commit to long-term inpatient rehab because of work or family obligations.
What To Expect in a 60-Day Rehab Program
While in a 60-day rehab program, you can expect to be away from home for around two months. You will sleep at the treatment facility and eat your meals on-site. Some programs may offer off-site field trips or family visiting hours, but policies will differ depending on your chosen facility.
Most 60-day rehab programs provide many services, including detox, medication management, individual and group therapy and support group meetings, such as NA and AA. While in rehab, you can expect to participate in some or all of these services, and your treatment team will create a recovery plan that meets your unique needs. .
What Happens After Rehab?
Once you complete an inpatient program, your treatment team will create a discharge plan to help you transition back home. In many cases, this plan will include aftercare services, such as continuing to attend counseling sessions or support group meetings. Some 60-day inpatient rehabs are connected to an outpatient facility, where you may be referred to continue your treatment once discharged.
Research has shown that quality discharge planning that links patients to aftercare services, stable housing and employment opportunities is important for continued success after inpatient rehab. Therefore, selecting a facility that links to resources in the community is critical.
Is 60-Day Rehab Effective?
No single treatment modality is guaranteed to work for everyone. However, what is known about drug and alcohol rehab is that most people should have at least three months of treatment to reduce or stop their substance misuse significantly. This can include a combination of inpatient and outpatient services along a full continuum of care. Given this, a 60-day inpatient program by itself may not be effective.
If you choose a 60-day program, continuing with outpatient counseling is important after you are discharged home. For some people, 60-day inpatient rehab programs can be an effective starting point for recovery. However, the best outcomes occur when patients stay committed to recovery after they leave the inpatient treatment program.
Will My Insurance Cover a 60-Day Rehab Program?
Insurance programs often provide coverage for behavioral healthcare services, including inpatient substance use disorder treatment; however, they typically do not provide coverage for 60-day rehab programs. It is more common for insurance companies to cover 28 or 30-day inpatient programs, followed by extended outpatient care.
Our programs at The Recovery Village Columbus are generally between 30 and 45 days, but can be extended to meet the patient's needs. Importantly, we offer a full continuum of care programs, where patients transition to lower levels of care as they recover and can handle more independence. Outpatient rehab and aftercare are core steps in our patients' recovery journey following their stay at the facility.
While many insurance companies will not cover 60-day stays in inpatient rehab, some do. You can verify your insurance coverage online or speak to a Recovery Advocate over the phone to determine your coverage and get started on your recovery.
Sources
National Institute on Drug Abuse. "Principles of Drug Addiction Treatment: A ">Principl[…]Treatment: A Research-Based Guide (Third Edition).">Research[…]ird Edition)." January 2014. Accessed December 21, 2022.
Manuel, Jennifer; Yuan, Yeqing; Herman, Daniel; Svikis, Dace; Nichols, Obie; Palmer, Erin; Deren, Sherry. "Barriers and facilitators to successful transition from long-term residential substance abuse treatment">Barriers[…]use treatment." Journal of Substance Abuse Treatment, March 2017. Accessed December 21, 2022.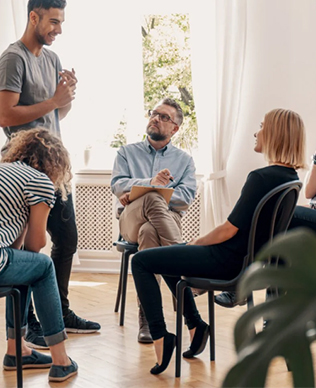 Questions?
Our Recovery Advocates are ready to answer your questions about addiction treatment and help you start your recovery.