Substance Abuse Counseling: Alcoholism and Drug Addiction Therapy
Last Updated: November 3, 2022
Jump to Section
Addiction is a widespread problem that impacts millions of people every day. Whether someone struggles with alcohol, prescription medications or illicit drugs, the addiction cycle is painful and challenging to break. Treatment for substance use disorder is an important step toward healing and can offer the tools needed to get through difficult moments while remaining sober.
What Is Substance Abuse Counseling?
Counseling for addiction can make a big difference in helping you identify the underlying thoughts and feelings that contribute to your substance use. There are many different types of therapy and treatment modalities, but the best approach largely depends on your individual needs, patterns of use and the severity of the disorder.
Therapy and Counseling Options for Addiction Treatment
Before choosing a treatment format, it can be helpful to learn more about the different ways of getting help with addiction. Not all treatment options are the same, but the goal of helping people recover is always the priority.
When you seek help, your care provider will gather some information to help determine the best treatment option for your addiction. They may inquire about:
Your history of use
Whether you use multiple types of substances
Your level of physical and emotional dependence on the substance
Your readiness for change
With this information, your provider will help you begin a treatment program that can effectively meet your needs in recovery.
Inpatient Rehab
Going into a facility for rehabilitation from substance abuse often feels intimidating, but it can be the best type of care for people who need intensive support. Inpatient care is best for those who may need medical care as they detox from alcohol or other drugs, or people who have medical issues alongside a substance use disorder. People with co-occurring mental health conditions and addiction may also benefit from inpatient rehab. Inpatient care is often 30 to 45 days but can last up to 90 days if needed.
Outpatient Rehab
Accessing support through outpatient rehab is a way to get help for addiction without being hospitalized. Outpatient rehab offers a supportive environment without the intensive care that a medical setting offers. An outpatient program typically includes individual therapy, group counseling and various educational resources for recovery. Often, people who need inpatient rehab step down to outpatient care when they have been stabilized medically and are ready for a lower level of care.
Addiction Therapist
An addiction therapist specializes in providing care to people struggling with substance use disorders or other types of addiction. Often, addiction therapists become certified or licensed in this specialty. With this specialized training, addiction therapists can help people work on identifying ways to tolerate difficulties without resorting to drugs or alcohol. These professionals also help clients explore some of the underlying factors that may have caused their addictions to develop. Addiction therapists help address less-than-helpful thoughts and behaviors while assisting people in finding new, healthier approaches to life.
Addiction Psychiatrist
For the medication management aspect of care, addiction psychiatrists are a helpful resource. Psychiatrists are trained medical and mental health professionals who can prescribe medications and offer advice to help aid in the recovery process. A psychiatrist may offer medicines for depression or other emotional health concerns while monitoring addiction risk factors and recovery progress.
Online Addiction Therapy
Online therapy has become a lifeline for people around the world, particularly since the pandemic began. The convenience of accessing therapy services online helps people receive treatment that they would otherwise be unable to get. A person can seek substance use counseling online from licensed providers with the same level of confidentiality as in-person care.
Types of Addiction Therapy
There are many effective methods for treating addiction. Everyone is different, and the varying types of treatment can support a wide variety of needs. Often, several types of support and treatment modalities can be useful for people in recovery.
Individual and Group Therapy
Recovery from addiction is challenging, and for the best outcomes, individualized treatment is important. Working with an individual therapist helps you establish goals that are based on your specific needs. Exploring individual mental health and addiction challenges and working one-on-one with a professional toward healing is an important part of recovery.
Group therapy is also a helpful treatment option. Knowing that you are not alone in your struggles and having the camaraderie and support of peers is crucial for recovery. Group therapy establishes rules for confidentiality and often has a portion of the group committed to learning new skills as well as sharing struggles and successes.
Medication-Assisted Treatment (MAT)
MAT is a great resource for people who have a longstanding addiction to opioids or other highly addictive substances. In MAT programs, people are prescribed medications to help manage the negative impact of withdrawal symptoms that often lead to relapse. Medication-assisted treatment is a safer alternative to unregulated substance use, as doses, side effects and other physical and emotional health factors are closely monitored.
Cognitive Behavioral Therapy (CBT)
Cognitive behavioral therapy is a widely used evidence-based therapy model that explores the connection between one's thoughts, feelings and behaviors. With CBT treatment, people learn to identify automatic thoughts and explore the emotional impact of those thoughts. With greater awareness of thoughts and feelings, people can work with their therapist on making behavioral changes to support a healthier lifestyle while also correcting negative thought patterns.
Dialectical Behavioral Therapy (DBT)
DBT offers participants practical knowledge about understanding and coping with emotions. As a treatment modality, DBT is straightforward and curriculum-based. People in DBT are often encouraged to track their emotions and try a variety of skills taught in the curriculum. DBT is great for people working on recovery because it helps identify different ways to deal with feelings and get through challenging moments.
Rational Emotive Behavior Therapy (REBT)
REBT is a treatment modality that encourages people to build self-compassion and explore irrational beliefs that contribute to uncomfortable feelings and negative coping behaviors. In REBT, therapists help clients manage feelings by shifting underlying thoughts and belief systems.
Eye Movement Desensitization and Reprocessing (EMDR)
Trauma is a common co-occurring condition for people with alcohol and drug addiction. The impact of trauma can make it difficult to manage daily life, and this can lead people to use substances in an effort to block out painful emotions. EMDR is an effective treatment method for reducing the impact of trauma on the mind and body. When these symptoms are reduced, the need to self-medicate decreases.
Contingency Management Therapy
Contingency management therapy is based on the idea that positive behaviors can be reinforced with rewards. With contingency management therapy, negative urine screens can be rewarded with monetary gains, which can offer a greater incentive to remain sober. After a period of time, sobriety is an intrinsic reward.
Benefits of Addiction Therapy
Addiction can be a lonely and isolating condition. Therapy can offer a variety of benefits, including a safe place to process thoughts and feelings and learn to cope with difficult emotions. For people with co-occurring conditions, addiction therapy can help manage symptoms in healthy ways while exploring a person's values, needs and strengths. Seeing a therapist for addiction counseling is a good way to build accountability, which can help in the recovery process. Addiction therapy also offers relapse prevention strategies that help increase the likelihood of maintaining sobriety.
Therapy and Counseling for Family Members of Addicts
A person's addiction often impacts their family members and loved ones. Therapy for family members can offer valuable information about addiction and help support the healing process. Relationships that have been impacted by addiction can also improve when therapy services are available to family members. Support groups, family therapy and individual therapy options can offer loved ones the support necessary to heal the damage done by addiction over time.
Substance Abuse Counseling Near Me
Whether you need inpatient care or would benefit from an outpatient provider with an addiction specialty, there are many treatment options available. Modalities such as CBT, DBT, REBT and EMDR can alleviate symptoms and help you build the necessary skills for maintaining sobriety.
If you are considering addiction counseling, reach out to The Recovery Village Columbus and let us help you determine what may be the best treatment option for your needs. In addition to our Ohio location, we also have facilities in Florida, New Jersey, Washington and Colorado.
If you're looking for convenience and a path toward healing that is just a click away, you can also download our free-to-use Nobu app. With features for stress reduction and access to professional counselors, Nobu can provide you with the support you need to get back on track to a healthier, happier life.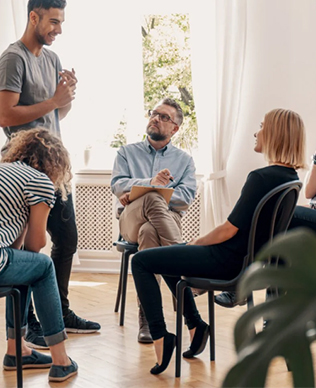 Questions?
Our Recovery Advocates are ready to answer your questions about addiction treatment and help you start your recovery.