2023-2024 Ohio Drug Abuse Statistics
Last Updated: December 12, 2022
Jump to Section
Drug abuse statistics can provide a window into addiction in Ohio. It is a pressing concern, but there is hope for people struggling with substance abuse.
Drug addiction in Ohio is a leading cause for concern. Drug overdose deaths in Ohio are the fourth highest in the United States; the Substance Abuse and Mental Health Services Administration (SAMHSA) has found that the rates of substance use disorders among Ohio residents are well above the national average. While more people in Ohio are seeking treatment than ever before, there is still a long way to go in terms of helping our state battle this epidemic.
Ohio Drug Addiction Statistics
Ohio drug abuse statistics paint a bleak picture. The Centers for Disease Control and Prevention (CDC) 2020 reports a drug overdose death rate of 47.2 per 100,000, which is well above the national average of 28.3. This is largely due to the widespread introduction of synthetic opioids like fentanyl, which has quickly become the leading cause of overdose deaths in the United States.
But Ohio drug abuse statistics paint a larger picture than synthetic opioids alone. Reports show that Ohio residents struggle with a wide variety of substance use disorders.
Commonly Used Drugs in Ohio
Data from national surveys collected between 2017 and 2019 show elevated rates of substance use disorders, particularly those related to illicit substances.
These Ohio drug abuse statistics come from SAMHSA's Behavioral Health Barometer for Ohio, which measured a variety of mental health indicators within the state from the 2019 National Survey on Drug Use and Health.
Alcohol Abuse in Ohio
Alcohol abuse in Ohio is one of the few areas where Ohio fares better than the nation at large. However, it is still the leading cause of substance use disorders in the state. 2019 estimates suggest that nearly 503,000 Ohio residents struggle with an alcohol use disorder each year, accounting for nearly 5.1% of the population — just below the nation's 5.3% average that year.
For young adults, the rates are somewhat higher. For people aged 18 to 25:
10.1% had an alcohol use disorder in the last year
38.9% engaged in binge alcohol use
Alcohol addiction can be debilitating, but fortunately, evidence-based treatments can help stop addiction in its tracks.
Opioid Addiction in Ohio
The prevalence of opioid addiction in Ohio is twice the national average, at 1.4% of the state's population. Between 2015 and 2019, opioid addiction in Ohio skyrocketed by 40%. Opioid overdose deaths rose from 29.9 per 100,000 residents in 2015 to 47.2 in 2020.
The category of opioids encompasses several different drugs, including:
While painkiller addiction in Ohio is difficult to measure, the data shows that 444,000 Ohio residents misused prescription painkillers in the past year, putting a significant portion of the state at risk of developing substance use disorders.
Heroin Addiction in Ohio
Heroin addiction in Ohio is a subclass of opioid addiction. At present, there are no current regional estimates of how many people experience heroin addiction specifically. But there is data on heroin use in Ohio, which shows that 0.53% of Ohio residents used heroin in the last year.
Cocaine Addiction in Ohio
Cocaine addiction in Ohio, including crack cocaine, is less common than other substance use concerns, but it can still cause devastating harm to the people who live through it. According to the 2018–2020 NSDUH Substate Region Estimates, 1.78% of people living in Ohio have used cocaine in the past year.
Other Drug-Specific Statistics
Inhalants, hallucinogens, benzodiazepines, marijuana and meth addiction in Ohio make up the majority of other substance use disorders in the state. Survey data indicates that:
0.67% of Ohio residents used meth in the last year
16.27% used marijuana in the last year
1.6% had a marijuana use disorder in the last year
Specific rates of hallucinogen, benzodiazepine and inhalant use are not currently available for Ohio in particular, but the 2020 national averages for misusing these drugs in the last year are:
Ohio Drug Use Demographics
Substance use disorders respect no boundaries. They can affect people of all different social classes, ethnicities, genders and cultures. But there are a few distinct risk factors that put certain people at a higher chance of developing substance use disorders than others. Risk factors for substance use disorders include:
Young age
A family history of addiction
Prenatal alcohol exposure
Poverty
Exposure to violence in the community
Lack of economic opportunity
People in Ohio experiencing any of these risk factors may be more likely to develop substance use disorders than others.
Seeking Treatment for Drug or Alcohol Addiction in Ohio
The rate of substance use concerns in Ohio may not look promising, but there is hope. Despite the growing number of people experiencing problems with addiction and mental health, there are time-tested and evidence-based practices that can help people recover. Addiction is a highly treatable disease, provided you seek out professional addiction treatment services.
The Recovery Village Columbus, a comprehensive drug and alcohol addiction treatment center, is here to help. No matter where you are in your recovery, our compassionate team can teach you the tools for a substance-free life. To learn more about our treatment options in Columbus, Ohio, reach out to one of our addiction specialists and get started on your recovery today.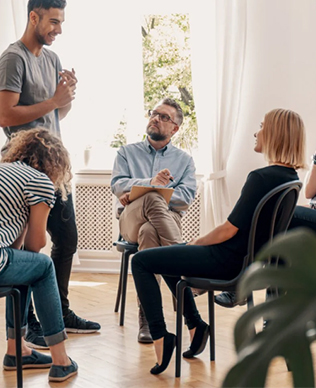 Questions?
Our Recovery Advocates are ready to answer your questions about addiction treatment and help you start your recovery.