Morphine Addiction Treatment & Rehab in Ohio
Last Updated: January 17, 2023
Jump to Section
Article Overview
Morphine is a prescription opioid medication that carries a high potential for abuse and addiction.
Ohio residents struggling with morphine addiction can find treatment at rehab facilities like The Recovery Village Columbus.
Treatment for morphine addiction involves detox, therapy and long-term maintenance.
Morphine is a prescription opioid medication used to treat pain. It is often used for surgery-related pain, but it can also be prescribed for acute and chronic medical conditions.
While morphine is effective for treating pain, it is also a Schedule II controlled substance that has a high potential for abuse and addiction.
When morphine enters the body, it attaches to mu-opioid receptors and stops the perception of pain. Overstimulation of mu-opioid receptors also causes pleasure, euphoria and feelings of well-being. These pleasurable feelings are what can make opioids so addictive.
Since taking morphine can be so pleasurable, a person may continue using the drug even though it negatively impacts their health and well-being. This type of behavior is consistent with symptoms of an opioid use disorder (OUD), the clinical term for opioid addiction. Fortunately, addiction to morphine and other opioids is treatable. Professional addiction treatment can help a person return to a healthier, substance-free life and find the support needed for lifelong recovery.
See More: Morphine Side Effects
Morphine Addiction Treatment Options
Drug rehabilitation and treatment centers offer the resources, support and education needed to effectively recover from addiction. The standard pathway of opioid addiction treatment includes opioid detox, treatment and long-term maintenance:
Medical Detox
Medical detox may be the first stage of treatment for people who are still using morphine. Detox is the body's process of removing a drug from its system. The withdrawal symptoms that occur during detox can be dangerous, depending on how severe the morphine addiction is. Drug treatment centers have clinicians, doctors and nurses who are trained to recognize and treat withdrawal symptoms that may occur during morphine detox.
Residential Rehab
After medical detox, a person will typically begin inpatient treatment at a residential rehab center. Clients live onsite at the facility and attend a full schedule of treatment, which may include therapy, counseling and peer support meetings. These approaches teach clients new skills that help them cope with situations that used to lead them to substance use.
Outpatient Rehab
Outpatient treatment is less intensive than residential treatment programs. During outpatient care, clients live at home and visit the facility to attend treatment several times per week. This approach helps provide additional support as clients begin transitioning back into their day-to-day lives.
Aftercare
Once the initial treatment is complete, clients move into the maintenance phase of recovery. Aftercare involves relapse prevention strategies, peer support groups, follow-up appointments, alumni events, sober living communities and more.
Dual Diagnosis
Many people struggle with mental health disorders in addition to addiction. These conditions can influence one another, making recovery difficult unless both are treated. Dual diagnosis care allows people to receive treatment for addiction and co-occurring disorders at the same time.
What Does Morphine Rehab Cost?
The cost of rehab can vary widely based on several different factors. In general, the more time someone spends in rehab, the more expensive it will be. While people should generally stay in treatment for longer periods, this can be cost-prohibitive for some.
The type of treatment also plays a role. More intensive treatment, such as inpatient care, will be more expensive because it requires more people to operate. Inpatient treatment usually requires lodging, food and staff, which makes inpatient programs costlier than outpatient options.
Treatment centers also vary in how much they charge. Some luxury facilities may feel like a spa, but they're also as expensive as one. Other facilities may be less expensive but provide fewer services or have long waitlists.
Does Insurance Cover Morphine Rehab?
Most insurance companies will cover some or all of the costs of substance use treatment. If you're wondering about your coverage, contact your health insurance provider or the rehab you're interested in. If you're considering The Recovery Village Columbus, you can speak to one of our knowledgeable representatives to verify coverage. You can also view which insurance providers are in our network.
Morphine Rehab
Choosing the right rehab facility can be more difficult than people realize. Some individuals have many options to choose from, but for others, the right rehab center is the one that can admit them as soon as possible.
For people who are able to take their time when choosing a facility, some important factors to consider include:
Licensing and accreditation
Types of treatment available
Training of clinical staff
Staff-to-patient ratio
Cost and Insurance
Amenities
Location
What To Expect When You Go to Rehab
When you first enter morphine addiction treatment, a member of the medical team will assess your treatment needs, including your drug and alcohol history, physical and mental health, lifestyle and goals for treatment.
Rehab treatment often begins with a physical detox period where your body slowly rids itself of the morphine in its system. Doing this under medical supervision at a rehab facility is often recommended for a safer and more comfortable experience.
Following detox, patients enter a full continuum of care, receiving a personalized treatment plan that may include medical support, individual and group therapy, medication management, recreational therapy, and case management.
What Happens After Rehab?
Life after rehab is all about relapse prevention. Most treatment specialists are aware that relapse can happen in the course of morphine addiction treatment, but the goal of treatment is to minimize this risk as much as possible. Aftercare planning often includes developing a relapse prevention plan, connecting you to support groups and recovery resources, regular check-ins and access to continued therapy and medical support.
How Rehab Improves Recovery
Recovery is possible for anyone, but it can be difficult without support. Rehab allows a person to follow proven methods that can treat opioid use disorder and prevent setbacks from occurring.
Evidence-based treatment programs can make recovery faster, more effective and more manageable. A healthy life is possible, even after morphine addiction.
Morphine Addiction Treatment in Columbus, OH
The Recovery Village Columbus is a highly renowned addiction rehabilitation center located in Groveport, Ohio. We are accredited by The Joint Commission and hold membership with the National Association of Addiction Treatment Providers. Our multidisciplinary team of experts is composed of licensed, experienced addiction specialists, medical staff members and mental health professionals.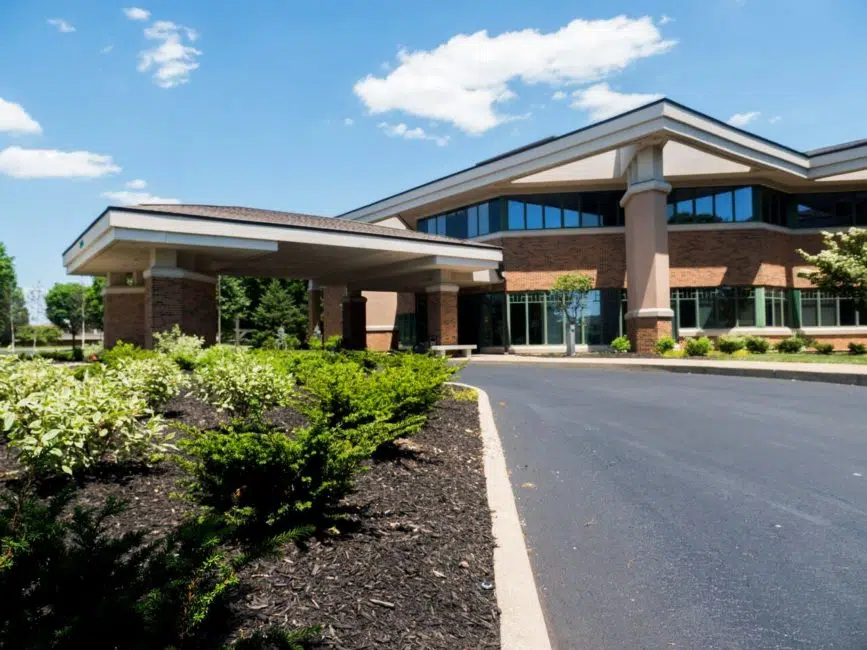 Our campus at The Recovery Village Columbus is designed to be a calming and comfortable environment that helps facilitate recovery. There are separate rooming facilities for men and women and plenty of open spaces for group and individual therapies. We also provide a variety of recreational amenities, including:
Two gyms
Volleyball and pickleball courts
Art studios
Computer labs
Outdoor fire pits
We offer a full continuum of care that helps clients gradually work toward recovery while receiving ongoing support and assistance. Our programs include:
If you or someone you love is struggling with morphine addiction, The Recovery Village Columbus is here to help. Contact us today to speak with a representative about morphine addiction treatment options that can work well for your situation.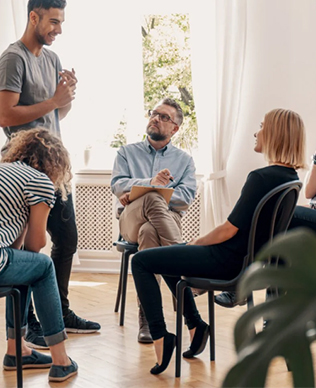 Questions?
Our Recovery Advocates are ready to answer your questions about addiction treatment and help you start your recovery.