Ohio Employers Grappling with Addiction in the Workplace
Last Updated: November 10, 2022
Jump to Section
Ohio has been described as the epicenter of the opioid crisis in the United States, and the business community in the state is trying to weather the effects of widespread opioid abuse among workers. From small independent operations to large corporations, everybody is feeling the effects of this national public health crisis.
How is addiction affecting businesses and residents in Ohio, and what steps are being taken to mitigate the consequences?
A Look at The Numbers
The National Safety Council has released some statistics that throw into sharp relief the havoc that substance abuse causes at businesses across America:
39 percent increase in absenteeism
39 percent of employees use prescriptions pain medication at work
32 percent of employees test positive for drugs
14 percent of employees sell or borrow drugs at work
10 percent of employers deal with overdose at work
These numbers show that substance abuse is a serious concern for many businesses across the country, including Ohio, which saw over 4,000 deaths from drug overdose in 2016. The impacts are growing and prompting new calls for policy upgrades by Ohio employers.
Implications for Ohio Businesses
There are a variety of operational and monetary costs affecting business owners as a direct result of the current drug epidemic in Ohio. Convenience stores have reported closing off public bathrooms to avoid incidences of overdose, and some businesses have been asking health officials for drug overdose kits to keep on the premises.
Insurance premiums are also on the rise as more and more employers deal with substance abuse among employees. More sick days, more accidents, and more leaves of absence significantly increase costs for employers.
Even those not directly addicted to drugs or alcohol are affecting their employers. If your son, brother, parent, or loved one is currently battling addiction, you are instantly more distracted at work. This again increases the likelihood of accidents and missed workdays.
Current Policies
Substance abuse treatment is currently required as a mandatory benefit under the 2010 Affordable Care Act, otherwise known as Obamacare. Federal employees and federal grant beneficiaries are also currently required to incorporate policies that deal with employees caught with illegal drugs at work.
Ohio State policies now give insurance breaks to employers that implement safety programs that deal with drug and alcohol safety, as well as annual drug tests for employees and testing of all new hires.
However, policy does not equal progress. The National Safety Council study mentioned above found that while over 70 percent of businesses feel the impacts of substance abuse, fewer than 20 percent feel equipped to deal with the issue.
Working Toward Change
By encouraging and supporting treatment, employers can have a significant impact on the successful recovery of their employees while at the same time reducing costs. The National Council on Alcoholism and Drug Abuse stresses that establishment of an Employee Assistance Program (EAP) is one of the most effective ways to handle substance abuse in the workplace. An EAP can provide coverage for those needing treatment for their addiction, which is one of the largest barriers to recovery that addicts face. Implementing a drug testing program can also have benefits. Providing education, reducing stigma and promoting a drug-free work space are also steps employers can make toward reducing drug use by employees.
Finding Help on an Individual Basis
If you have an employee with a drug problem, do what you can reasonably do to encourage him or her to seek adequate treatment. If you are an employee seeking addiction treatment in Ohio, Recovery Village Columbus invites you to our brand new facility. We are centrally located to serve you and offer full substance-abuse disorder treatment plans customized to suit your individual needs. For more information contact us and start your journey toward wellness today.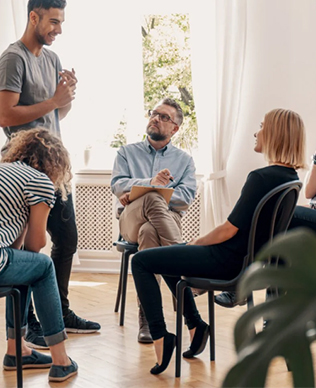 Questions?
Our Recovery Advocates are ready to answer your questions about addiction treatment and help you start your recovery.