Inpatient vs Outpatient Rehab
Last Updated: December 20, 2022
Jump to Section
The decision to begin the recovery journey is an important first step, but there are still some key factors to consider. Many wonder about the differences between inpatient and outpatient rehab and which treatment is best for their situation. Inpatient and outpatient rehab can effectively treat addiction, and some people combine both types of care in their treatment plans. However, each type of care is better for different situations. Learning more about the different kinds of treatment can help you feel more informed and confident about the decision to begin the recovery journey.
What Is Inpatient (Residential) Rehab?
Inpatient (or residential) rehab is the highest level of treatment for substance use disorders. During inpatient treatment, people with substance use disorders live full-time at a treatment center. They receive around-the-clock therapeutic and medical support for their disease and any possible co-occurring disorders. Inpatient treatment centers have medical staff and addiction treatment professionals available to monitor and treat symptoms and provide guidance, support and strategies for recovery.
While in the inpatient environment, people can intensely focus on the beginning stages of recovery without the pressures and triggers from their lives. Inpatient rehab provides the opportunity to live in a safe, drug-free and supervised community. During this time, patients can have few to no interactions with the people, situations and stressors in their lives. They can focus on healing, getting sober and learning skills to cope with triggers that can lead to a relapse.
Treatments Used in Inpatient Rehab
Some inpatient rehab centers offer medically assisted detox. For people who have severe addictions or struggle with certain substances, inpatient rehab may begin with detox. Patients receive 24-hour medical supervision and monitoring during inpatient detox while the drugs leave the body. The medical staff monitors vital signs and provides any necessary treatments. Some people may receive medications or other forms of support to assist with cravings and symptoms of withdrawal.
In residential treatment, people live in a rehab center and receive a variety of different treatment services. The services will vary depending on the rehab center and the person's needs. Some of the common treatment services include:
Family therapy
Medical support
Nutritional support
Psychiatry services
Education about addiction and recovery
Art and music therapy
What Is Outpatient Rehab?
In outpatient rehab, people attend substance abuse treatment but do not live on-site at the facility. Rather, they may live at home or in a sober living community. Outpatient rehab has a more flexible schedule, so people can continue with work, school or other responsibilities. People continue to receive support and treatment from providers but at a less intense level than in inpatient rehab.
Outpatient rehab can be a good choice for people who have less severe addictions, have social support and can live safely in the community. A person needs to have a strong motivation for recovery in outpatient rehab because they have more independence in following the treatment plan and attending appointments. Some people may transition into outpatient rehab following a discharge from inpatient care, while others begin their recovery journey with outpatient care.
Treatments Used in Outpatient Rehab
People typically participate in outpatient rehab through a partial hospitalization program (PHP), intensive outpatient program (IOP) or continuing care program. Most outpatient rehab programs offer similar treatments and services to those offered in inpatient rehab. The available options can vary based on the specific program and level of care, but they typically include:
Individual and group therapy
Family therapy
Psychiatry services or a referral for appropriate providers
Medical appointments
12-step support groups
Education about addiction and recovery
Inpatient vs. Outpatient Rehab
Inpatient and outpatient rehab programs work toward the same goals. They aim to help people find sobriety, establish a recovery program and learn the skills necessary to maintain sobriety.
Many people wonder: What is the difference between inpatient and outpatient treatment? When considering substance abuse treatment, learning about the differences can help you decide which program to choose.
Level of Care
Level of care refers to the intensity of services someone receives while in substance abuse treatment. The levels fall across a continuum of care, and the American Society of Addiction Medicine (ASAM) has defined five different levels of care. The treatment provider determines the most appropriate level of care in the assessment process. Sometimes, people move across the different levels of care based on progress in treatment or relapses.
Inpatient rehab levels of care include:
Medically managed detox
Residential inpatient treatment
Outpatient levels of care include:
Partial hospitalization programs
Intensive outpatient programs
Traditional outpatient services
Effectiveness
The National Institute on Drug Abuse (NIDA) looks at several outcomes when describing effective substance abuse treatment. NIDA explains that effective treatment helps someone find sobriety and reach a healthy level of functioning within their family, workplace and community. They state that when someone remains in treatment, they are more likely to find sobriety and reach this healthy level of functioning.
When comparing inpatient and outpatient rehab, research has demonstrated that both types of treatment can effectively help people treat substance abuse. However, the effectiveness of treatment varies based on the severity of the addiction, the individual's history and other personal circumstances.
When someone has a more severe substance use disorder, inpatient rehab might be more effective because it provides a safe environment free of drugs and other triggers that may lead to relapse. With inpatient treatment, patients can focus more on recovery, which can help the treatment be more effective. When someone has a milder substance use disorder or has already completed an inpatient program, outpatient treatment can be very effective.
Cost
The cost of treatment varies greatly depending on the services offered, the length of treatment and the facility itself. Typically, inpatient care will cost more due to the higher level of care and available support. Some average costs for one episode of care are:
Outpatient rehab for three months: $5000
One month of residential care: $10,000
Inpatient care with detox for one month: $12,500
Depending on the facility and the type of insurance, insurance may cover some or all of the treatment.
Duration
Duration of treatment varies across treatment types and levels of care. Research does show that most people with a substance use disorder have greater treatment outcomes with at least 90 days in treatment.
People typically stay at an inpatient treatment center for 28 days or longer and then step down to an outpatient level of care. Some people may remain in outpatient treatment for an average of three months.
Success Rate
Addiction is a chronic disease with no cure. There are no mutually-agreed upon, objective measures to quantify successful treatment, which makes it hard to define a successful recovery. However, other chronic diseases have objective criteria used to define a successful course of treatment. For example, diabetes, blood pressure and thyroid disease have blood tests and other measures to quantify successful treatment outcomes. With addiction, measurements are subjective, typically based on self-reports of the person in recovery or the observations of others.
Consequently, many different factors are used to measure success or failure in substance abuse treatment. For example, some people consider relapsing a treatment failure. Because of the chronic nature of addiction, relapses do happen: rates can range from 40% to 60%. However, a relapse does not suggest that treatment has failed. A relapse can suggest that a person should return to treatment and consider changes to the treatment plan.
Certain factors can help people achieve better treatment outcomes and influence how well they respond to treatment. When someone has a more severe substance use disorder, they are more likely to significantly decrease or stop their usage with a longer treatment episode. The treatment can begin with inpatient rehab (with detox if necessary) and then step down to outpatient treatment when appropriate. Recovery occurs across a long span of time, and many people may need more than one episode of care.
How To Choose the Best Rehab Option
Inpatient treatment and outpatient treatment can both effectively treat substance use disorders. When selecting the best rehab option, it is important to consider your individual needs, addiction severity and treatment history.
Inpatient treatment offers the highest level of support to people with more moderate to severe addictions. Inpatient rehab provides 24-hour supervised care and allows people to focus more intensely on recovery without the pressures and triggers in their lives that can lead to a relapse. Upon completing their inpatient rehab program, they can step down to outpatient care.
Outpatient treatment can help people who have less severe substance use disorders or have gone through inpatient rehab. Those who attend outpatient care should be able to live in the community safely. Outpatient rehab offers the flexibility to work, go to school and interact with others while receiving structured support in treatment.
Inpatient and Outpatient Rehab Options in Columbus
The Columbus Recovery Center offers inpatient and outpatient substance abuse treatment options that help people heal in a safe, private and comfortable environment.
Patients can begin recovery with the medical detox program, which provides supervised medical care 24 hours a day, seven days a week. During detox, patients also have access to individual counseling and nutritional support. Following detox, patients can begin residential treatment — an intensive program with a focus on individual and group therapy sessions. In this level of care, patients receive three meals a day, medication management and recreation therapy.
Outpatient care can be a follow-up to inpatient treatment or serve as the first step of recovery for people with less severe addictions. Outpatient treatment may last up to three months.
Columbus Recovery Center offers inpatient and outpatient treatment options as part of a full continuum of evidence-based care. If you or your loved one is struggling with substance abuse and addiction, our experts are here to help. Contact us today to learn more about available treatment options and begin the journey to a healthier, substance-free future in recovery.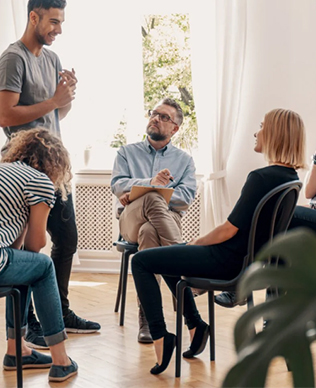 Questions?
Our Recovery Advocates are ready to answer your questions about addiction treatment and help you start your recovery.