Drug and Alcohol Detox During Pregnancy
Last Updated: December 27, 2022
Jump to Section
Pregnancy can be an exciting and overwhelming time for many. These feelings compound even more if you are battling a drug or alcohol addiction. While there are many complications of addiction during pregnancy, we can help. The sooner you can safely detox and stop using a substance, the less risk there is to your baby.
Pregnancy and Addiction
An estimated 5% of pregnant women use one or more addictive substances. The impact on the baby can differ depending on the substance used. Many people focus on opioid use during pregnancy; however, there can also be complications from using alcohol, barbiturates, benzodiazepines and caffeine. These complications can include the risk of withdrawal and stillbirth, and some substances can even be fatal. More information is needed about the effects of many drugs and pregnancy.
Data describes that:
Of the over six million pregnancies annually, 90% of women take at least one medication despite less than 10% of drugs having established information about fetal risks.
Nearly 10% of pregnant American women have smoked cigarettes in the last month.
Between 2010–2017, the number of pregnant women who use cannabis doubled.
An estimated 750,000 pregnancies each year are cocaine-exposed.
Risks of Using Substances During Pregnancy
Nutrients are filtered via the placenta from mom to baby during pregnancy. Therefore, any drug the mother is exposed to can potentially cross the placenta and affect the baby. It is also important to note these effects may be present after the baby is born.
Neonatal Abstinence Syndrome (NAS) occurs when a baby is born addicted to drugs and experiences withdrawal after birth. NAS is especially likely when the mother uses opioids during pregnancy, but it can also happen with other drugs. As babies develop into children, many exposed to drugs or alcohol during pregnancy are at increased risk for sudden infant death syndrome (SIDS). In addition, they can experience developmental delays, learning disorders or increased risks for addiction of their own.
Newborn drug withdrawal symptoms typically develop within the first 14 days of life and can include:
Blotchy skin
Diarrhea
Excessive or high-pitched crying
Abnormal sucking reflex
Fever
Increased muscle tone
Irritability
Rapid breathing
Seizures
Slow weight gain
Sweating
Trembling
Trouble feeding
Trouble sleeping
Vomiting
Detoxing While Pregnant
Addressing an addiction while pregnant can be scary and potentially dangerous to your unborn baby without help. Pregnancy can be an exciting but overwhelming time for many, and addiction can compound this. Pregnancy can also be a time of reflection on your health and your unborn baby's health. Detoxing carries with it risks for many complications like electrolyte disturbances or seizures; these can be harmful to the mother and the baby if not under close medical supervision.
However, medical detox during pregnancy is safe and effective for both mother and baby. Especially when done early during pregnancy, many babies are born without complications of addiction, which increases the chances of the baby being born free from congenital disabilities. The treatment and medical detox length will differ by person and depend on the substance. Always consult your healthcare provider first if you are considering stopping, but the sooner after finding out you are pregnant, the better.
Opioid Detox Medications That Are Safe for Pregnancy
The most commonly used medications for medical opioid detox are buprenorphine and methadone. Either medication would be taken in place of an opioid, like heroin. Buprenorphine or methadone would replace the opioid, and the starting dose depends on how much of an opioid you use and for how long. While methadone may be associated with a higher success rate for treating the mother, buprenorphine may have less likelihood for NAS, shortened neonatal treatment time and less neonatal morphine use. Speak with your healthcare provider to determine which medications are best for your situation.
Drug Treatment Programs for Pregnant Women
There are several safe and effective treatment options for pregnant women. Most begin with inpatient care which involves around-the-clock medical monitoring and care. During this time, you are treated in a hospital or rehab facility, depending on the severity of your withdrawal. Inpatient treatment also offers therapy, counseling and the opportunity for a fresh start and to form bonds with like-minded individuals on their path to a healthier life. 
Many people transition to outpatient treatment following inpatient care. Here, you slowly regain your independence while remaining supported medically and emotionally for whole-person care. While you would no longer live at the treatment facility, professionals would help you find sober and safe housing. You'd return to the facility for medical and therapy appointments to continue your journey toward regaining your life.
Obstacles for Pregnant Women in Recovery
There are many obstacles for pregnant women considering addiction treatment. Perhaps the biggest reason more women worry about seeking addiction treatment is fear of the consequences of using drugs or alcohol during pregnancy. Some worry about custody issues, criminal ramifications or judgment from others.
The American College of Obstetricians and Gynecologists (ACOG) recommends against criminalization in such situations because open communication between doctor and mother and increased medical care lead to better outcomes for the baby. ACOG also notes that routine drug screening is controversial and recommends drug testing only with consent when a positive test is not a deterrent to care, a disqualifier for coverage or the only reason for family separation. Unfortunately, practices relating to drug screens differ by state and even by hospital.
Get the Help You Need Today
Finding the right drug rehab center is vital for you and your baby. The Recovery Village Columbus offers a full range of treatment programs, including medical detox and inpatient and outpatient rehab. You can be sure we have knowledgeable staff and treatment programs to care for you and your baby.
Our Joint Commission-accredited facility is conveniently located in Groveport, Ohio, and our compassionate admissions coordinators are available to speak with you 24/7. Contact us today for more information. Your confidentiality is always assured.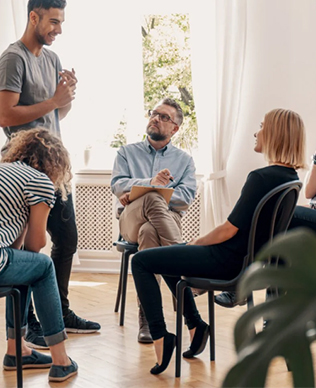 Questions?
Our Recovery Advocates are ready to answer your questions about addiction treatment and help you start your recovery.