Can You Force Someone Into Rehab? How To Use Casey's Law in Ohio
Last Updated: December 27, 2022
Jump to Section
Involuntary rehab is a term used to describe forcing someone into addiction treatment. Depending on the state where you live, some will allow parents to force minors under 18 to attend rehab. The situation can get more complicated for people who are 18 and older. A number of states have involuntary commitment laws for people over the age of 18. In Ohio, there's a version of Casey's Law in place that's an involuntary treatment option.
Casey's Law in Ohio
Matthew "Casey" Wethington died when he was 23 due to a heroin overdose. Casey was described as an energetic and athletic young man until he became involved with drugs. Casey's family lost their son after being told for years there was nothing they could do to help him. His family long pushed to give him what they described as a right to live in recovery. His life and death inspired a law allowing parents, relatives and friends to intervene when a substance use disorder affects someone they love, regardless of age and without the need for criminal charges.
In Ohio, the law is informally referred to as Casey's Law. The original Casey's Law was enacted in Kentucky in 2004. The original Ohio version went into effect in 2012. In Ohio, to qualify for a Casey's Law petition, someone must suffer from alcohol or other drug abuse and be a danger or threat to their family, themselves or others. They must also be someone who can reasonably benefit from treatment.
How to File a Casey's Law Petition
Following the original enactment of Ohio's Casey Law in 2012, it wasn't often used. Advocates said they felt it was hard to access and expensive for families. The Hamilton County Addiction Response Coalition came forward, creating a committee to fix the law five years ago. In April 2021, changes to the law went into effect. A family member of someone with a substance use disorder can now go to the probate court office and ask for help to do the paperwork to file a petition. Then, evidence of the need for treatment is considered, along with the help of an addiction expert.
Because of the 2021 changes, families aren't required to put up half the cost of treatment upfront, and there's no filing fee. No proof of insurance or coverage for half the cost of treatment is needed upfront. Those seeking an intervention are no longer required to get a physical exam for their loved ones.
What To Expect
Once families file a petition, there's a court hearing scheduled. The court may order treatment if it's concluded at the end of the hearing that the person being petitioned might benefit from treatment. The court will consider the recommendations for treatments from health professionals submitted. Families aren't required to have an attorney at the hearing, but they can have one if they prefer. The person the petition is filed about also has the right to get an attorney. If the person can't obtain their own lawyer, one can be court-appointed.
Ohio's Pink Slip Law
Ohio has two processes where mental health treatment may be initiated involuntarily. The first is known as Ohio's Pink Slip law. Under this law, certain health professionals or law enforcement officials may initiate emergency hospitalization if there's an immediate need. The second is called judicial hospitalization. Judicial hospitalization is different from "pink-slipping" because it can be initiated by anyone at any time, including a family member, friend, or court personnel. The person's mental illness must be severe enough to be categorized in at least one of five categories to be a "mentally ill person subject to a court order." Ohio state statutes define these categories. Sometimes, a person subject to pink-slipping may be judicially hospitalized.
Who Pays for Involuntary Rehab?
When a family petitions for their loved one to go to rehab under Ohio's version of Casey's Law, they are responsible for the costs, or the individual is. That said, Ohio has made it less burdensome for families. Under the April 2021 changes in the law, families don't have to provide half the treatment cost upfront anymore, nor is there a filing fee. The law does currently state the petitioner has to accept financial responsibility for court fees and treatment costs. Some courts will let the health insurance of the person going to treatment apply to the cost of treatment. The specifics vary depending on the county you're in. If you have questions about health insurance or covering the cost of treatment, you should contact your local probate court.
Effectiveness of Involuntary Rehab
Suppose you consider using Casey's Law to help a loved one but are unsure of the ethics. In many states, it's legal to force someone to detox from substances. While forced treatment remains controversial, the National Institute on Drug Abuse maintains that treatment does not need to be voluntary to be effective. According to a landmark 2005 study, mandated treatment is just as effective as voluntary treatment for long-term addiction recovery. One of the reasons forced or compelled treatment is effective is because of retention. The longer people stay in rehab, the less likely they are to relapse and the more likely they are to recover. For those whose substance issues are a severe risk, coercion can be a life-saving option.
Get Help For Your Loved One Today
If you'd like to explore treatment programs available for your loved one, we're here to answer questions you may have. Our team can help with specific challenges, like encouraging them to go to rehab and verifying insurance coverage. Don't hesitate to contact us anytime.
Our available treatment programs include medical detox, inpatient rehab, outpatient treatment, partial hospitalization and intensive outpatient programming. Our approach to treatment relies on identifying and addressing the root cause and the physical, emotional and mental symptoms of addiction. Reach out today.
See Related: Addiction Resource Guide For Family & Friends
Sources
NIH National Institute on Drug Abuse. "Principles of Effective Treatment." January 2018. Accessed August 24, 2022.
Kelly, John F., Finney, John W., and Moos, Rudolf. "Substance use disorder patients who are […] 5-year outcomes." Journal of Substance Abuse Treatment, April 28, 2005. Accessed August 24, 2022.
Casey's Law. "Casey's Law OH: The Steps Toward Help and Hope." Accessed August 24, 2022.
DeMio, Terry. "Judge: I'm ready to save lives with ad[…]ed Casey's Law." Cincinnati Enquirer, September 2, 2021. Accessed August 24, 2022.
Lisa Musielewicz. "Involuntary Treatment for Mental Illness." Ohio Office of Research and Drafting, February 10, 2021. Accessed August 24, 2022.
Partnership To End Addiction. "Many States Allow Involuntary Commitment[…] Addiction Treatment." September 2016. Accessed August 24, 2022.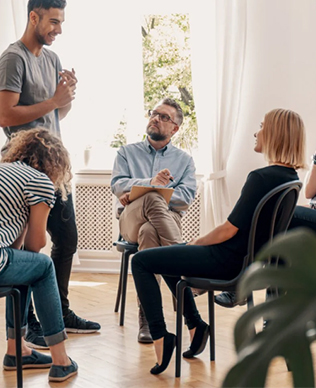 Questions?
Our Recovery Advocates are ready to answer your questions about addiction treatment and help you start your recovery.