Benzo Addiction Treatment & Rehab
Last Updated: October 27, 2022
Jump to Section
Benzodiazepine drugs, or benzos, are common prescription medications, with research showing that upwards of 5% of U.S. adults have a benzo drug prescription. This class of drugs includes medications like Valium, Xanax, Ativan and Klonopin, and these medicines are prescribed to treat anxiety and panic disorders. Benzos can also be prescribed to treat seizures and alcohol withdrawal in some cases.
While many people begin using benzodiazepines with a legitimate prescription, it can quickly develop into an addiction. Others may use the drug in a recreational way to relax or relieve painful emotions. Benzodiazepines like Xanax are some of the most addictive prescription drugs that are on the market — not only in places like Cincinnati and Columbus, but in the entire state of Ohio and across the United States. Fortunately, treatment for benzodiazepine addiction is available. 
The Recovery Village Columbus is a national treatment center that offers benzodiazepine rehab for people who live in Ohio and all over the U.S. The addiction specialists and healthcare professionals on staff are committed to helping people with a substance use disorder find a path to recovery.
Detox Treatment for Benzo Addiction
When a person becomes addicted to benzodiazepines, their brain changes. Benzodiazepines release dopamine in the brain, leading to feelings of pleasure. They also increase GABA levels, leading to relaxation. With regular benzo use, people can begin to seek them out in addition to what's prescribed, so they can continue experiencing these pleasant effects. This could lead to abuse and eventually addiction.
Tolerance is a symptom of benzodiazepine addiction. When a person develops a tolerance for benzodiazepines, the body needs more and more of the substance to achieve the same effect. Even if someone takes benzodiazepines as directed, developing a physical dependence on the medication is possible.
For this reason, many people discover that benzodiazepine addiction treatment is the best course of action to recover from a benzo use disorder. Benzo rehab often begins with a benzo detox program, which can help patients manage benzodiazepine withdrawal symptoms in a safer and more comfortable environment.
Benzodiazepine Withdrawal Is Dangerous
Detox is an important first step in benzodiazepine addiction treatment because patients are likely to experience uncomfortable withdrawal symptoms when they stop using benzos. In some cases, benzo withdrawal is rather mild and includes side effects like sleep problems, agitation, anxiety, tremors, nausea and headache. In other instances, however, withdrawal symptoms can be more severe and even dangerous.
Severe cases of benzo withdrawal can include the following side effects:
Psychosis
Hallucinations
Seizures
Severe benzo withdrawal that produces seizures can be fatal, which is why it is critical to reach out to a professional detox program before stopping benzo use. At The Recovery Village Columbus, our treatment programs begin with medical detox, where symptoms can be managed by a medical team for a safer and more comfortable withdrawal process.
Inpatient Rehab for Benzo Addiction
If you are in Ohio and dealing with an addiction to benzodiazepines, you may feel overwhelmed and may wonder where to start looking for help. You can rest assured that there are many helpful resources available.
For those with a severe addiction, treatment often begins with inpatient rehab after medical detox is complete. In an inpatient treatment program, you will stay at the facility 24 hours a day and attend a structured treatment schedule with your clinical team and professional therapists. These programs involve individual and group therapy, medical care, recreational therapy and case management. They can last anywhere from 28 to 90 or more days.
Outpatient Treatment of Benzo Addiction
Most patients who complete an inpatient benzodiazepine treatment program in Ohio will transition to a less intensive level of care, like an outpatient program. In outpatient care, patients live at home or at a sober living facility and travel to the treatment center for their medical visits, therapy and case management appointments. They often also attend support group meetings like Narcotics Anonymous or SMART Recovery.
While most patients start outpatient treatment after completing more intensive levels of care, some patients with milder addictions and supportive home environments may be able to begin their recovery in outpatient care. Regardless of whether you begin with inpatient or outpatient care, it is important to participate in aftercare services at the end of your program to help you maintain your sobriety.
Finding Treatment for Benzodiazepine Addiction
If you're looking for benzodiazepine addiction treatment in Ohio, you should seek a rehab program that offers a full continuum of care. The Recovery Village Columbus Drug & Alcohol Rehab has a comprehensive, evidence-based detox program onsite, but you are not required to detox through us. If you'd prefer, we can refer you to an Ohio detox facility where you can safely undergo benzodiazepine withdrawal before beginning rehab.
The Recovery Village Columbus is a full-service benzodiazepine addiction treatment center that offers medical detox, inpatient programs, partial hospitalization services, outpatient care and aftercare programs. With a staff of qualified, compassionate addiction specialists, patients at The Recovery Village Columbus will be able to follow a personalized treatment plan that supports their long-term recovery. Call us today to get started.
Sources
Ait-Daoud, Nassima, et al. "A Review of Alprazolam Use, Misuse, and Withdrawal." Journal of Addiction Medicine, 2018. Accessed December 5, 2021.
Greenberg, Michael. "Benzodiazepine Withdrawal." Emergency Medicine News, December 2001. Accessed December 5, 2021.
Maust, Donovan T., et al. "Benzodiazepine Use and Misuse Among Adul[…]in the United States." Psychiatric Services, December 17, 2018. Accessed December 5, 2021.
National Institute on Drug Abuse. "Research suggests benzodiazepine use is […]sorder rates are low." October 18, 2018. December 5, 2021.
National Institute on Drug Abuse. "The Science of Drug Use and Addiction: The Basics." July 2, 2018. Accessed December 5, 2021.
Sachdeva, Ankur, et al. "Alcohol Withdrawal Syndrome: Benzodiazepines and Beyond." Journal of Clinical & Diagnostic Research, September 2015. Accessed December 5, 2021.
Schmitz, Allison. "Benzodiazepine use, misuse, and abuse: A review." The Mental Health Clinician, June 2016. Accessed December 5, 2021.
United States Drug Enforcement Administration. "Benzodiazepines." Accessed December 5, 2021.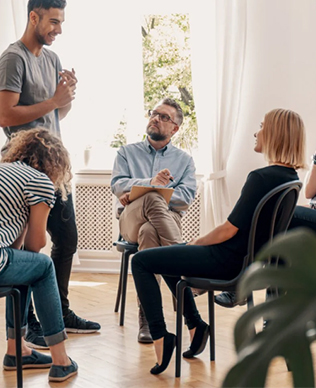 Questions?
Our Recovery Advocates are ready to answer your questions about addiction treatment and help you start your recovery.