7 Myths People Tell Themselves About Alcohol Rehab
Last Updated: February 17, 2023
Jump to Section
The Recovery Village Columbus has helped thousands of people overcome their alcohol addictions with physician-led, evidence-based care. Many of us — admissions coordinators, counselors, executives — are in recovery ourselves.
Don't let these alcohol rehab myths stop you from getting life-changing treatment at The Recovery Village Columbus.
#1 I don't deserve to get better.
Guilt and shame about drinking are normal symptoms of alcoholism, but alcohol use disorder is a chronic, treatable illness, not a moral failing. We believe:
Anyone can recover from alcohol addiction.
All clients deserve respect and empathy.
Recovery is possible if you commit to it.
Physician-led medical care and evidence-based rehab can treat your addiction.
#2 Drinking helps me cope or forget my problems.
You're not alone. More than 40% of alcoholics drink to self-medicate mental health issues like depression, anxiety or PTSD, and more than 60% drink to relieve stress. However, drinking can make mental health symptoms worse over time, creating a powerful downward spiral.
Our dual diagnosis program treats alcohol addiction and mental health symptoms together to break the cycle, developing healthier coping mechanisms for your new life in recovery.
#3 Quitting alcohol didn't work before, so no point trying again.
Between 40 and 60% of people in recovery experience setbacks or relapse. Relapse is not defeat — it's a normal part of recovery. Don't lose hope.
From day one, we build relapse prevention into your treatment plan: customized tools to avoid triggers, medication-assisted treatment and aftercare resources prepare you for life without alcohol.
#4 I have to "hit rock bottom" for rehab to work.
Alcohol rehab isn't just for people who've reached their lowest. Many patients come to our facilities looking to avoid worse outcomes, and find renewed hope in their goals for the future. They start new habits, regain control, grow their self-awareness and improve their relationships.
If you'd like to change your relationship with alcohol, it's never too early or too late.
#5 I can't afford rehab.
The Recovery Village Columbus is in-network with most local and national insurance providers. Many insurance plans cover some or all alcohol rehab costs. You can verify your coverage online or over the phone.
Even if our facility does not suit your needs, our Recovery Advocates can refer you to a reputable treatment facility that takes your insurance or offers financial assistance. It all starts with a call.
#6 I could lose my job if I leave for rehab.
Several laws are in place that protect employees when they attend alcohol rehab, so choosing rehab often doesn't mean losing your job. Our Recovery Advocates can help you prepare your job for your inpatient stay, or start you in outpatient rehab that works around your schedule.
#7 I can stop drinking and detox on my own.
While people with milder alcohol addiction may be able to stop on their own, most people need medical supervision to stop safely. Alcohol withdrawal can be dangerous or even deadly. Our medical detox program makes the process as safe and comfortable as possible so you avoid relapse and harm.
Related: 10 Common Myths About Alcoholism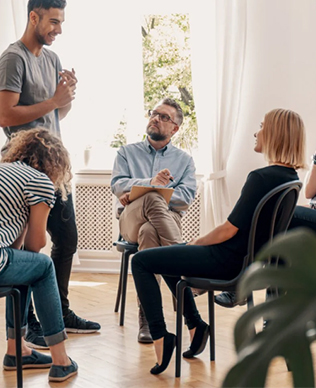 Questions?
Our Recovery Advocates are ready to answer your questions about addiction treatment and help you start your recovery.