Meth Addiction Replaces Opioids in West Virginia Town
Last Updated:October 26, 2022
Jump to Section
Community leaders in Clarksburg, West Virginia, are facing an unexpected fallout from the opioid crisis: an increase in meth addiction. The West Virginia drug problem is transitioning as access to opioids decreases.
Methamphetamine effects are different from the slow, physical decline represented by opioid abuse. Meth addiction and abuse can lead to:
Blood pressure and respiratory issues
Insomnia
Psychosis
Paranoia
Seizures
Decreased immunity to disease
Brain damage
Skin infections
Tooth decay
According to the U.S. Drug Enforcement Administration (DEA), both locally produced and imported meth are available throughout West Virginia. The state had the highest increase of drug overdose deaths nationwide between in 2015. The DEA considers the trafficking of crystal methamphetamine as a significant threat to the state of West Virginia.
Meth Prices Fall, Addiction Rises
The National Institute on Drug Abuse reports that 10,333 people died in 2017 from drug overdose deaths from psychostimulants, including meth. Meth has a long history throughout the country due to the fact that it can be cheaply, locally manufactured. Kaiser Health News describes a dynamic in which it appears that some people are trading one addiction for another, using meth when opioids aren't available. Numerous federal, state and local officials have invested heavily in opioid addiction prevention and treatment. From grants to community efforts, significant and ongoing efforts are made to address opioid addiction.
As these efforts to combat opioid use make an impact, people who are addicted to opioids may turn to other drugs. This dynamic appears to be occurring in Clarksburg, West Virginia, and is likely happening in other communities. Meth addiction represents an acute public health crisis wherever it is prevalent. Meth and violence are often connected, as meth impacts the brain and can lead to psychosis.
Meth vs. Opioid Addiction
Treatment for meth-induced psychosis includes detox, medical therapies and additional medical and mental health support. Depending on how deteriorated an individual is after extended exposure to the drug, emergency treatment may be required. Numerous individuals in both urban and rural areas understand how to make cheap meth, which often means that it varies in both potency and ratio of contents. Appalachian drug abuse has consistently risen over the last 20 years. It will require creative and unique strategies to reach communities in the rust belt struggling with drug addiction.
Meth addiction places stress on community resources as law enforcement officials respond to the crisis. Communities like Clarksburg appear to have a drug problem overall, not necessarily a drug-specific problem. When one becomes unavailable, a new, cheaper substance moves in. Addressing the root causes of addiction is vital if they are going to move beyond these patterns.
Overcome addiction with evidence-based, expert care.
An Increase in Homemade Drugs
Some people in rural communities know how to make methamphetamine. Access to and understanding of the ingredients and chemicals in meth have led to a proliferation on the black market. With as little effort as an internet search and the purchase of materials, string dope and other strains or variations of the drug can be produced. At-home drug development can be dangerous, especially when homemade substances are shared or sold in local communities.
Hope Lies in Community Resources and Recovery
Attending a rehab program can be a vital component of meth addiction treatment. A treatment program may be the only way someone who is severely addicted to meth can find help. The Recovery Village Columbus offers educational resources online, in addition to a treatment facility to help people who are struggling with meth or other addictions. Call to learn more about drug addiction recovery options near you.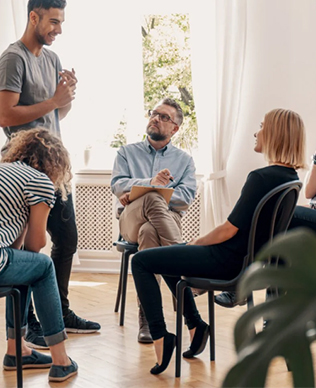 Questions?
Our Recovery Advocates are ready to answer your questions about addiction treatment and help you start your recovery.