Cuyahoga County Tests For Fentanyl
Last Updated: October 28, 2022
Jump to Section
Part of what makes the opioid crisis so deadly is the presence of fentanyl in drugs like heroin and cocaine. Recently, communities have been taking new approaches to try to save lives, including setting up safe injection centers or distributing the overdose-reversal drug Naloxone to schools, libraries and other local centers.
Cuyahoga County is utilizing another tool in the fight against the deadly opioid epidemic by making testing for fentanyl easier.
The Alcohol, Drug Addiction and Mental Health Services Board of Cuyahoga has been handing out free fentanyl test strips to local businesses, institutions and other places in the county as a way to disperse the potentially life-saving strips throughout local communities. The strips, which cost about $1, are used as a harm reduction tool to potentially prevent overdose for people who are struggling with addiction.
Using Fentanyl With Other Drugs
The reason that test strips are being used as a tool is because fentanyl is deadly, undetectable and has been creeping into street drugs like heroin and cocaine. Fentanyl is a synthetic opioid pain reliever that is 50 to 100 times stronger than morphine. Because the drug is so potent and some illegal labs are able to make it cheaply, illicit drug manufacturers and dealers have been adding fentanyl to various street drugs to increase their profits.
Without testing for the actual content of a street drug, it's easy to unknowingly buy and use a drug that is cut with fentanyl. It can take just one encounter to have a fatal fentanyl overdose.
The number of opioid-related deaths in Cuyahoga County is staggering. In 2017, there were over 400 deaths resulting from the use of heroin, fentanyl or a combination of the two drugs. In the 24 hours between August 18 and August 19, 2019, there were six fatal overdoses in Cuyahoga County.
It's clear to see why authorities in Cuyahoga County are sponsoring programs like the free test strips to combat this crisis.
Fentanyl Use in Ohio
As of 2016, synthetic drugs like fentanyl was involved in nearly 50% of opioid-related death in the US. Of all the states, Ohio has seen the second-highest rate of overdose deaths involving opioids. These fentanyl overdose statistics are glaring: Ohio has some of the highest rates of opioid drug use, which often includes fentanyl, which is resulting in the loss of over 4,000 lives in the opioid crisis as of 2017.
The test strips that are being distributed are just one part of a plan to prevent the loss of life in Ohio. But how effective is this free fentanyl test strip program ⁠— are people actually using them?
So far, the strips have been very useful. One business in Cuyahoga County reported that its first box containing 100 strips ran out in a week. Yet, even though the fentanyl test strips are another tool that can be used to help save lives and prevent overdose, the only way to permanently prevent harm for those overdosing is to seek help and begin a life of recovery.
If you or someone you love is addicted to opioids or another substance, contact The Recovery Village Columbus to learn more about treatment and recovery. With evidence-based practices and medical support, The Recovery Village Columbus provides world-class care to those seeking help for opioid addiction.
Sources
"Addiction services agency offers test for detecting fentanyl." Washington Times. August 11, 2019. Accessed September 12, 2019.
MacDonald, Evan. "Cocaine users: Your drugs may contain fe[…]e-saving test strips." Cleveland.com. August 8, 2019. Accessed September 12, 2019.
Centers for Disease Control. "What is Fentanyl?" May 31, 2019. Accessed September 18, 2019.
Cuyahoga County Opiate Task Force. "Heroin Initiative: Understanding the Shift Towards Heroin." Accessed September 18, 2019.
Steer, Jen. "Six fatal overdoses in Cuyahoga County in 24 hours." Fox 8 Cleveland. August 21, 2019. Accessed September 18, 2019.
National Institute on Drug Abuse. "Ohio Opioid Summary." Revised March 2019. Accessed September 18, 2019.
National Institute on Drug Abuse. "Fentanyl and Other Synthetic Opioids Drug Overdose Deaths." May 2018. Accessed, October 2, 2019.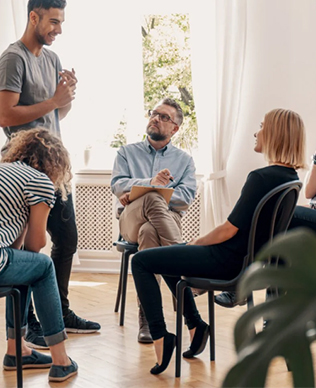 Questions?
Our Recovery Advocates are ready to answer your questions about addiction treatment and help you start your recovery.