Located in the heart of Ohio, Mansfield is a thriving city known for its exciting museums and parks. However, like many communities in Ohio, Mansfield has been significantly impacted by drug and alcohol abuse. In 2020, Ohio had the third-highest opioid-related death rate in the nation, with a reported 5,204 deaths.
Substance Use in Richland County
Richland County, where Mansfield, Ohio, is located, has been significantly affected by drug and alcohol use.
In 2020, 62 residents in Richland County died of an unintentional drug overdose.
From 2015-2020, Richland County had an estimated drug overdose death rate of 49 per 100,000 people.
Throughout Ohio, fentanyl accounted for 81% of all unintentional drug overdose deaths.
Finding Addiction Treatment in Mansfield, OH
There is no one-size-fits-all solution for treating drug and alcohol addiction. The first step to recovery is finding an accredited treatment facility that offers evidence-based, physician-led care. At The Recovery Village Columbus, we provide a full continuum of care personalized to your needs. Our various treatment options can provide valuable care to help patients at every stage of the recovery process.
Drug and Alcohol Detox
When dependent on drugs and alcohol, detox is usually a necessary first step of recovery. During detox, your body rids its system of drugs and alcohol, which can cause withdrawal symptoms. We ensure every person is as safe and comfortable as possible during this process by providing 24-hour medical care, withdrawal management medication, quiet and private resting places, nutritious foods and individual counseling sessions.
Learn More About Medical Detox
Inpatient Addiction Treatment
Inpatient or residential addiction treatment is a critical step in recovery that typically follows medical detox. It allows patients to obtain distance from potentially harmful environments, people and things that can trigger their addiction. During residential treatment, patients stay at an inpatient facility full-time and, with the help of staff, work towards recovery. Our inpatient program offers individual and group therapy, medical care and therapeutic activities such as yoga and exercise to promote healing.
Learn More About Inpatient Rehab
Outpatient Addiction Treatment
Outpatient addiction treatment is a possible next step after completing an inpatient, partial hospitalization or intensive outpatient program. It allows patients to receive scheduled counseling and treatment sessions while living at home or in a sober living community. Outpatient care allows patients to continue building on the coping skills they developed in treatment while returning to daily life.
Learn More About Outpatient Rehab
Dual Diagnosis Treatment
Dual diagnosis is when someone has a co-occurring substance use disorder and mental health disorder. Treating both disorders is essential to long-term recovery. Our dual diagnosis treatment helps patients understand how their disorders influence each other. Treating both conditions can heal the root of the patient's addiction, not just manage its symptoms.
Our Nearest Treatment Center
Our nearest facility is located just 74 miles south of Mansfield in Columbus, Ohio. Based just off Interstate 71, The Recovery Village Columbus is an accessible location for all Ohio residents.
Why Choose The Recovery Village?
The Recovery Village Columbus offers patients evidence-based care that reaches the root of their addiction. Our facility provides comprehensive care at every stage of recovery, from medical detox and inpatient care to outpatient care and aftercare. Treatment plans are personalized and can feature dual diagnosis care for co-occurring disorders and medication-assisted treatment when appropriate.
Our Process
Treatment plans at The Recovery Village Columbus are individually tailored to the patient's needs for the best potential for long-term recovery. With a continuum of care and evidence-based treatments, our team can ensure you're ready to progress to the next level of treatment on your timeline.
An example of our treatment process includes:
Completion of a thorough intake assessment
Medically-supervised detox to safely and comfortably rid your body of substances
Inpatient rehabilitation that provides a structured environment safe from potential triggers to use
Outpatient treatment and counseling while living at home or in a sober living community
Our Facility
At The Recovery Village Columbus, we work to create an environment that supports healing. Our facility offers comfortable housing and relaxing recreational lounges. Our amenities include but are not limited to:
Two fully equipped gyms
Pickleball and volleyball courts
Computer lab
Pool and air hockey tables
Shuffleboard
Art studio
Outdoor fire pit
Regular off-site field trips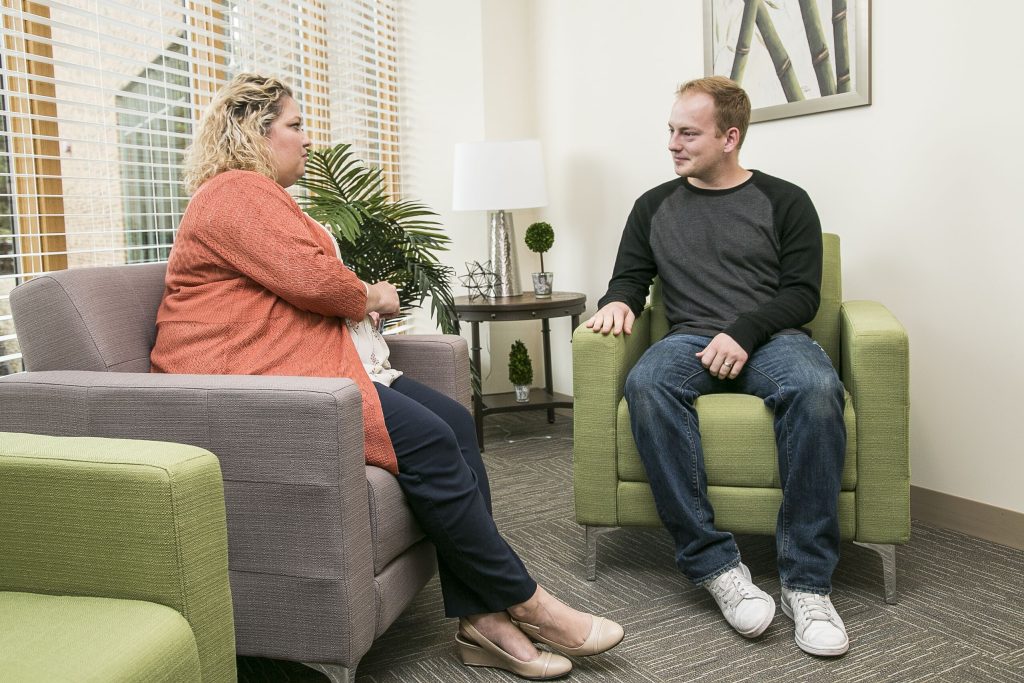 When you choose rehab at The Recovery Village Columbus Drug & Alcohol Rehab, you can expect:
A full continuum of care programs, from medically assisted detox to outpatient and aftercare
Innovative traditional therapies such as cognitive behavioral therapy (CBT) and 12-step groups
Recreational options like yoga and art therapies
A full staff of licensed doctors, nurses and clinicians specializing in addiction and recovery
Care that is 100% confidential
The Recovery Village: Your Destination for Wellness
If you or a loved one is looking for drug treatment in Ohio or beyond, The Recovery Village is a great option for rehabilitation care. This acclaimed facility has locations across the country, including Groveport, OH.
Whether you're searching for medically assisted detox, outpatient care or any level of care in between, The Recovery Village has a treatment for any type of substance use disorder. At every Recovery Village location, each patient is cared for physically and mentally, with each program including counseling for co-occurring mental disorders.
Fill out our contact form to have a Recovery Advocate reach out to you or call (614) 362-1686.