How to Find Support for Mental Illness and Substance Abuse in the Ohio LGBT Community
Last Updated: November 10, 2022
Jump to Section
If you or any of your loved ones are part of the Ohio LGBT community and are also living with substance use disorder, you might feel concerned about finding treatment locally. Where can you find a place that welcomes your whole self and allows you to explore your options for addiction recovery?
Mental Illness and the LGBT Community
When you are part of the LGBT community, you are probably aware that struggling with identity can be a challenging time. You may also have experienced times when you or your family were not welcomed, or perhaps you were not welcomed into your family. Learning to be your authentic self and expressing this to others can be stressful. These additional stresses can lead to depression and anxiety.
Unfortunately, as a result of mental illnesses, many people choose to self-medicate with substances to help them feel happy, euphoric, or just normal. Over time, dependency on these substances leads to poor physical and mental health. This makes LGBT-friendly addiction services even more important; you need to be able to connect with people who understand your dual diagnosis and the pressures in your life so that you can receive treatment that will help you become substance-free.
LGBT Substance Use
If you are an LGBT-identified person and you are seeking help from substance use, you are certainly not alone. According to SAMHSA, "adults who identify as lesbian, gay or bisexual (sexual minority adults) have a higher prevalence of substance use and mental illness than adults who identified themselves as heterosexual." At least 4.3 percent of the population is LGBT, and the study quoted did not examine those who are trans. The rate of substance dependence is much higher in the LGBT community; Social Work Today states: "The rate of substance abuse disorders among LGBT individuals isn't well known, but studies indicate it may be 20 percent to 30 percent, which is significantly higher than the general population (9 percent)."
LGBT Addiction Treatment
Cultural sensitivity is key in addiction treatment, and LGBT people with substance use disorder may feel discouraged when they reach out to treatment providers. If you are LGBT, you need to know that it is safe to come out to your mental health care and addiction treatment providers. Word of mouth, LGBT resources, and researching treatment centers can help you find LGBT-friendly providers.
What does LGBT-friendly addiction treatment look like? It looks like an office that has promotional materials that feature same-sex couples and forms that have multiple options for gender and gender-neutral checkboxes for marital status. It also includes treatment providers who offer up positive support for addiction recovery no matter who you are. During your treatment, you may address issues around your sexuality in counseling sessions if they are causing you anxiety or depression. Your treatment provider should use the principles of Gay Affirmative Practice, which include:
Not assuming that you are heterosexual
Considering society's response to LGBT people as the problem, rather than LGBT orientations as the problem
Knowing that coming out as an LGBT person could be part of the recovery process and that clients may need to work with their own internal homophobia
Understanding their own internal biases and the coming-out process as a whole
Finding LGBT-positive treatment will help you in your recovery. Are you looking for options for Ohio addiction treatment? At The Recovery Village Columbus, we are dedicated to everyone's health. Talk with us today to learn about admission.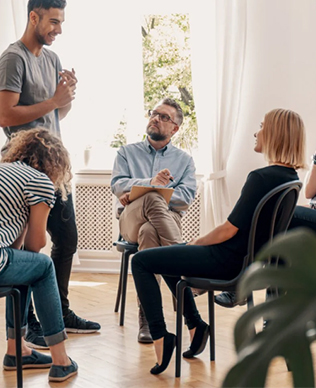 Questions?
Our Recovery Advocates are ready to answer your questions about addiction treatment and help you start your recovery.