Finding Addiction Treatment through EAP Programs
Last Updated: February 16, 2023
Employee assistance programs (EAPs) can help create a work environment that supports employees who need treatment for substance use disorders.
According to the National Council on Alcoholism and Drug Dependence (NCADD), workplace addiction costs employers $81 billion every year. Whether it's the employees themselves who are struggling with addiction or their family members, anyone who is harmed by a substance use disorder can bring their issues to work with them.
Missing days of work, showing up late, and poor work performance harms not just employers, but the employees as well. Given the dire effects of drug and alcohol addictions, it's important for a person to find treatment before addiction hurts their health and their career.
Anyone with a substance use disorder could benefit from participating in a medically supervised treatment program, like those offered at The Recovery Village Columbus. Trying to manage a substance use disorder can be difficult without clinical care. The odds of achieving sobriety and maintaining it can be much higher when treatment is sought.
Obstacles to Treatment
However, there are often obstacles that people face when trying to get sober. Treatment can sometimes be difficult to access for any number of reasons, including being unable to find the right center to treat specific addiction issues. Further, certain work environments can make it difficult for some people to maintain sobriety.
Available options can assist people who need help with their addiction, and one of these options is an employee assistance program (EAP). What are EAPs, and how can they help people achieve sobriety?
What Are EAPs?
Employee Assistance Programs (EAPs) help people who struggle with a mental illness or a substance use disorder that requires treatment. Many employers offer these programs, which usually involve counseling and assistance in pointing employees in the direction of local treatment programs.
These programs also involve providing a safe and healthy work environment for employees who have had issues with drug and alcohol use in the past but have taken steps to maintain a sober lifestyle. These environments help ensure that employees stay on the right path. For instance, such workplaces may offer trained staff, drug tests, counseling services and monitors to make sure employees continue with their abstinence.
Most EAPs typically offer a series of services that may include continuing education for both employees and employers, support for family members, referrals to the appropriate treatment centers and financial advice.
What Benefits Do EAP Services Provide?
In addition to the perks of EAPs, these programs can help identify any substance use issues before addiction develops. In turn, employers can help get their employees the treatment they need to deal with their addiction. Many EAPs are also useful to refer employees to the appropriate treatment programs rather than leaving employees to find one on their own.
Further, any obstacles that people may find when seeking treatment for a substance use disorder can be more easily overcome with the assistance of an EAP program. Considering how complicated mental health and addiction treatment can be to access, having a resource to streamline the process can be invaluable.
Do You Have a Substance Use Disorder?
If you're facing addiction and it's affecting your job, your health and your family relationships, it's time to get help. Addiction treatment programs are available, and the sooner you reach out, the sooner you can get your life back on track.
If you're struggling with an addiction, don't wait to get help. Contact The Recovery Village Columbus to speak with a representative and find the right treatment center for you.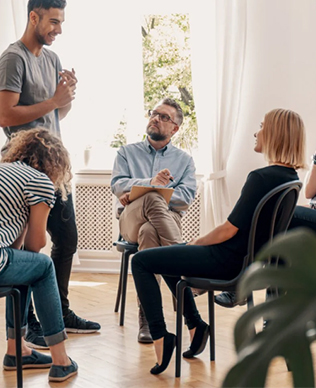 Questions?
Our Recovery Advocates are ready to answer your questions about addiction treatment and help you start your recovery.