City on the Edge: A Closer Look at Cleveland Drug Trends
Last Updated: December 16, 2022
Jump to Section
Cleveland might be the home of the Rock and Roll Hall of Fame, but unfortunately, social issues such as drug trafficking, drug addiction, and overdose deaths have been rocking the city as well. As drug use such as the opioid crisis becomes more acute in cities across the United States, how do Cleveland drug trends stack up when compared to the rest of the country?
Drug Concerns in Cleveland
There are many different types of drugs being used in Cleveland. These include opioids such as heroin and prescription opioids, but they also include crack cocaine and powdered cocaine, marijuana, sedative-hypnotics, synthetic marijuana, meth, and PCP. Powdered heroin is most available and is often injected, and powdered cocaine is more available than crack cocaine. Crack cocaine is less expensive and more typically used by those who have lower incomes and are living in the inner city.
Like the drugs in many areas of the country, drugs in Cleveland are often cut with other drugs. This mixing of drugs is dangerous because people do not know exactly what they are getting. For example, heroin can be cut with fentanyl or carfentanil. According to the Ohio Substance Abuse Monitoring Network, (OSAM) "participants stated that more users were seeking heroin mixtures containing fentanyl and carfentanil because these potent substances produced a stronger high." Unfortunately, when you do not know what you are getting, an overdose is more likely. Speaking to the OSAM, one user called heroin use "Russian roulette" due to the lack of knowledge of the exact contents of the drug. In addition to heroin, users are also turning to other drugs to dull withdrawal symptoms. These include Neurontin, also known as gabapentin.
Where are overdose deaths mainly occurring? According to the OSAM, "the Cuyahoga County Medical Examiner reported that, while heroin-related overdose deaths were predominantly seen in white people with substance use disorder, heroin dealers are mixing cocaine, a drug used predominantly by African-American people, with fentanyl as a means to increase their customer base." This could increase the danger of overdose deaths in that group as well.
How Does Cleveland Compare?
How does Cleveland compare to the rest of the country in overdose deaths and in drug use? In 2016, the Cuyahoga County Medical Examiner's Office confirmed that "opioids killed more people in 2016 than any year in the county's history," according to Cleveland.com. There was a rise from 666 overdose deaths in 2016 to 775 deaths in 2017. Fentanyl was a factor in the majority of those 666 deaths; 399 people had used fentanyl. This drug is the primary reason that overdose deaths have doubled in three years. When you do not know what you are getting or you do not know the purity of the drug, then overdoses are more common.
These deaths are spreading across all demographics and across all areas of the country. According to the CDC, "recent increases in drug overdose deaths are driven by continued sharp increases in deaths involving synthetic opioids other than methadone, such as illicitly manufactured fentanyl." Men between the ages of 25 and 44 are most at risk of overdose, and overall, drug overdose rates have increased by nearly 22 percent. Unfortunately, drug overdoses from opioids have doubled across the country, just as they have in Cleveland.
While there is a specific demographic that is most commonly dying from overdoses, opioids cross all demographic boundaries, and everyone from teens to seniors is affected by these drugs. In part, this is because prescription opioids are easy to access. From teens who break an arm to seniors who experience a painful surgery, people are being prescribed opioids and can then become addicted.
Cleveland and Drug Trafficking
Unfortunately, it has become easier to order drugs online, and this is how many drugs get into the United States, including Cleveland. Packages can be sent through the mail and they are hard to find in the huge number of packages coming from around the world. Many drugs come from China and Southeast Asia, and some come from Mexico as well. Drug-sniffing dogs cannot look for these packages as sniffing the drugs could kill them. Even law enforcement agents need to take precautions if they find a shipment of drugs.
This has made trafficking even more complex. For example, in a December 2017 drug bust of a heroin and fentanyl trafficking ring, those involved were moving drugs from Puerto Rico into the US, but they were also moving drugs from China to Puerto Rico. These shipments came through regular mail channels such as the USPS, FedEx, and UPS.
Other traditional methods of trafficking are still present, however. In 2017, News5 also commented on the fact that a Mexican drug cartel was moving into Northeast Ohio. These drugs often come across the border in cars outfitted with secret compartments.
Since Cleveland is a hub, cross-state trafficking of other drugs such as marijuana from California may come into Cleveland and then out into surrounding areas as well.
What Progress is Being Made?
What changes and progress are being made in the fight against drugs and against opioids in particular? In Ohio, $1.5 million has been distributed to schools and other youth-based organizations to help with the fight against addiction, according to CBS News.
Access to overdose drugs is also gradually improving. According to Cleveland.com, since 2015, pharmacists have been allowed to "use a standing order signed by a doctor to dispense the lifesaving medication, most commonly known by the brand name of the nasal spray version, Narcan, to customers who do not have their own prescription."
Cleveland Addiction Treatment
When you or any of your family are struggling with addiction in Cleveland, what resources do you have to move into recovery? Look for Cleveland addiction treatment resources at recovery centers like The Recovery Village. At The Recovery Village, you will find:
Programs that offer medical assistance to help you move off drugs safely.
Inpatient programs including therapy, family therapy, peer support, and other programs such as art therapy.
Outpatient programs that help you start your new life in sobriety, such as sober housing. These treatments also allow you to live at home or balance work and your program.
A focus on the treatment of co-occurring disorders such as anxiety, depression, and PTSD to help you become more successful in a sustained recovery.
Aftercare to help you follow up with your treatment through therapies such as counseling.
At The Recovery Village, we want to help you start a new, positive path in life, your recovery. Contact us for more information and learn about admission today.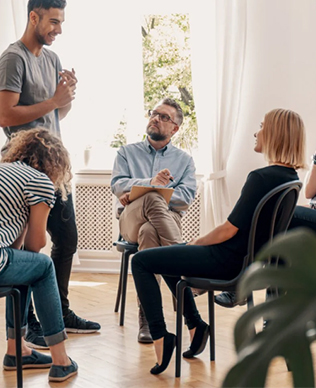 Questions?
Our Recovery Advocates are ready to answer your questions about addiction treatment and help you start your recovery.