Drug Overdose Deaths Are Down Across Ohio, but Not in Franklin County
Last Updated: January 6, 2023
Jump to Section
Though drug-related deaths in Ohio dropped by 22.5% in 2018, some parts of the state are struggling more than ever. Franklin County, Ohio's most populated area, experienced an alarming hike in accidental deaths caused by drug overdoses. In a single day in 2019, 10 Franklin County residents were killed by drug-related overdoses.
"This is an unusually high number for our county in this period of time," said Franklin County Coroner Dr. Anahi Ortiz.
Officials continue to take action to prevent these statewide deaths, but many wonder why Franklin County continues to struggle while other parts of Ohio have achieved drastically reduced overdose rates.
Drug Use in Ohio: A Statewide Problem
Ohio has been at the center of America's opioid epidemic for years. From viral photos of public overdoses to a rise in foster care cases for families with addiction, Ohio's crisis has made headlines across the globe. Though local organizations have been proactive in stocking overdose-reversal medicines like naloxone and limiting opioid prescriptions, drug use continues to raise concern across the state.
Many of Ohio's overdose fatalities are tied to fentanyl. This dangerous synthetic opioid is 50 times stronger than heroin and up to 100 times stronger than morphine. According to the Ohio Department of Health, 72.6% of drug-related deaths involved fentanyl in 2018. Fentanyl is often combined with other drugs, and it's easy for someone to overdose if they unknowingly use this powerful substance.
An Alarming Trend in Franklin County
In September 2019, Dr. Ortiz released an alert after the county experienced 10 overdose deaths in 26 hours.
"I urge friends and family of those who use to make sure you are armed with naloxone. Those who use should also test before using with fentanyl testing strips," she stated in her alert.
In a press release issued the following month, the coroner highlights a further increase in overdose deaths in the county. The Franklin County Coroner's Office reported 254 drug overdose deaths during the first half of 2019 — a 4% increase from the same period in 2018.
Despite a decrease in overall overdose deaths in Ohio, Franklin County continues to experience striking increases in fatality rates. Additionally, a majority of these deaths are related to fentanyl. In Franklin County, 85% of overdose deaths in the first half of 2019 were linked to opioids, with fentanyl accounting for 75% of all overdose deaths.
Ohio's Overdose Deaths by the Numbers
Ohio Drug Overdoses
2017: 4,854
2018: 3,764
Between 2017 and 2018, Ohio's rate of unintentional drug overdose deaths decreased from 4,854 to 3,764 — a 22.7% difference. After years of rising death rates, this number marks the lowest overdose death rate in Ohio since 2015.
With 83.7% of all drug-related deaths involving opioids, however, Ohio is still in the midst of a deadly opioid crisis. Illicit opioid drugs like heroin and prescription opioid painkillers like OxyContin accounted for 3,150 deaths in Ohio in 2018.
At the center of the opioid crisis lies fentanyl. This powerful painkiller is typically reserved for end-of-life care, but it has recently made its way into many street drugs. Manufacturers often cut fentanyl into other drugs like heroin and cocaine, and many people who overdose on fentanyl do not realize that they've taken it.
Nearly 73% of Ohio overdose deaths in 2018 were attributed to fentanyl, often used in combination with other substances. The drug took 2,733 lives in Ohio in 2018, down from 3,341 in 2017. Following fentanyl, cocaine caused 1,092 (29%) deaths and heroin caused 714 (19%) deaths in 2018.
Ohio Counties With the Highest Number of Overdose Deaths
While Ohio's drop in overall overdose deaths showcases the success of statewide efforts, communities are still facing a crisis. On top of leading the state in the total number of overdose deaths, Franklin County is the only county that saw such a drastic increase from 2017 to 2018. Ohio's counties with the highest number of overdoses in 2018 include:
Franklin County
2017 Overdose Deaths: 431
2018 Overdose Deaths: 476
Situated in the center of Ohio, Franklin County is home to Columbus, one of the most populous cities in the United States. Franklin County was the only area among the top five to experience more drug overdoses in 2018 than 2017, with an increase of nearly 11%.
In response to the continued rise in 2019, Dr. Ortiz has issued several statements and press releases that encourage residents to take advantage of local resources and recovery programs. According to Dr. Ortiz, the top five zip codes for overdose deaths for the first six months of 2019 were 43211, 43223, 43229, 43207 and 43204.
Cuyahoga County
2017 Overdose Deaths: 598
2018 Overdose Deaths: 443
Home to Cleveland, the Rock and Roll Capital of the World, Cuyahoga County has been overwhelmed by the opioid epidemic like other metropolitan areas in Ohio. While it ranks second for the total number of drug overdoses, Cuyahoga County is determined to continue seeing a decline in these rates.
The Alcohol, Drug Addiction and Mental Health Services Board of Cuyahoga has created several harm-reduction initiatives, such as dispensing fentanyl test strips to detect the deadly drug in other substances.
Hamilton County
2017 Overdose Deaths: 444
2018 Overdose Deaths: 357
Bordering both Indiana and Kentucky, Hamilton County faces unique challenges when it comes to drug use in Ohio. Overdose deaths decreased from 2017, but Cincinnati and the surrounding areas still had 357 drug overdose deaths in 2018. Additionally, Hamilton County has had alarming overdose events in 2019. In June 2019, the Hamilton County Heroin Coalition shared an alert after 22 overdoses occurred in a 24-hour period.
Like other counties, Hamilton County continues to take proactive measures against drug overdoses. These include dispensing the opioid antidote naloxone and implementing specialty programs, such as medication-assisted treatment in the Hamilton County Jail.
Montgomery County
2017 Overdose Deaths: 521
2018 Overdose Deaths: 275
In 2017, Montgomery County and several others made headlines when they resorted to using air-conditioned trailers to store the remains of overdose victims after a surge in drug-related deaths. Additionally, the Ohio Department of Health ranks Montgomery County first for the average age-adjusted drug overdose death rate from 2013–2018.
Montgomery County has an overdose death rate of 61 per 100,000 people, and the county continues to experience a large number of overdoses relative to the population. However, the steep decline in 2018 overdose deaths is a result of Dayton and Montgomery County's efforts to heal communities and people with addiction. The Community Overdose Action Team works to stabilize and reduce negative drug trends to promote long-term health and well-being.
Butler County
2017 Overdose Deaths: 260
2018 Overdose Deaths: 176
As part of the greater Cincinnati area, Butler County has experienced overdose trends similar to Hamilton County. Additionally, Butler County is designated as a high-intensity drug trafficking area in the United States.
Though Butler County is still a leader in the state for its number of overdoses, the county has seen a reduction in total drug deaths. With designated programming and resources like the Butler County Health Department, Southwest Ohio aims to reduce overdoses and reverse the opioid epidemic along with the rest of the state.
How to Help Someone Who's Addicted to Drugs
As a densely populated urban area, Franklin County continues to face unique challenges that lead to an overall rise in drug overdose deaths. In Ohio, the opioid crisis is a public health issue that affects families, individuals, professionals and people from all walks of life. By emphasizing public resources, education and care, Franklin County may be able to see overdose death rates begin to lower.
If you or someone you know is living with an addiction, there are several resources available in Ohio and throughout the country. Many cities have established task forces and community programs to help combat overdoses and addiction. The Franklin County Community Action plan outlines specific steps to prevent and treat overdoses, such as distributing naloxone, providing access to clean syringes, creating testing facilities and more. These resources can help save lives before or after a drug overdose, and treatment programs that help people heal from addiction can lead to lasting recovery.
The Recovery Village Columbus offers comprehensive treatment programs in central Ohio, including medical detox, inpatient treatment and outpatient programming. With a full continuum of care aimed to address drug and alcohol addiction as well as co-occurring mental health conditions, The Recovery Village Columbus believes in whole-person healing. If you or someone you know is living with a drug addiction, contact us today to learn more about rehabilitative care for long-term healing.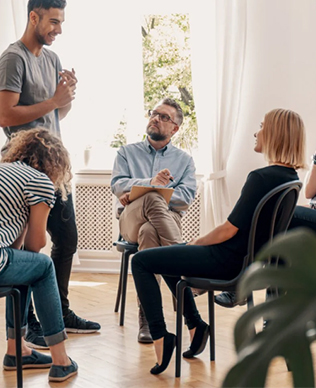 Questions?
Our Recovery Advocates are ready to answer your questions about addiction treatment and help you start your recovery.