2023/2024 Addiction Resource Guide For Friends and Family
Last Updated: January 17, 2023
Jump to Section
Family counseling for addiction can help loved ones develop the skills for supporting someone with an addiction and encouraging them to attend rehab.
If you have a loved one who lives with an addiction, you are probably concerned for their well-being and want to help them recover. Understanding addiction is the first step to supporting your loved one. Learn how to help a loved one with addiction get treatment.
Addiction and Family
Addiction is a family disease. This means addiction affects the whole family, and the entire family can play an important role in helping their loved one to recover. Because of this, families are often involved in the treatment process for a loved one. As a family member, you may attend support groups or participate in family therapy sessions to help you learn more about the nature of addiction, as well as how you can communicate and interact with your loved one to support their recovery.
Knowing The Signs of Addiction
When a family member or friend has an addiction, they may display some physical and behavioral symptoms that suggest that they are struggling with alcoholism or substance misuse. Some of these signs include:
Visible changes to the eyes, such as bloodshot eyes or small pupils
Having difficulty with coordination
Slurred speech
Strange smells on the body, breath, or clothing (smelling like alcohol or chemicals)
Declining physical appearance (appearing unkempt or dirty)
Declining performance at work or school (failing to meet deadlines, failing grades)
Having a hard time getting along with friends, family or coworkers
Noticeable changes in eating and sleeping habits
Sudden changes in personality or attitude
Behaving in a secretive fashion (concealing their activities or whereabouts)
Outbursts of anger or unexpected mood swings
Reduced motivation
Seeming anxious or paranoid without explanation
Extreme hyperactivity
Asking for money or suddenly experiencing financial problems
Physical changes, like weight loss or gain
If your loved one shows several of these signs and you know they have been using drugs or alcohol, they may have a substance use disorder, a medical condition that needs professional treatment.
Once a person develops a substance use disorder, they will continue to use alcohol or drugs, even when they cause serious consequences, such as declining health, relationship conflicts, or losing their job. People with substance use disorders tend to have drug cravings, and they are often unsuccessful at stopping their use, even if they want to stop.
How To Talk To Your Loved One
If your loved one does not seek treatment or address the issue on their own, you may need to confront them about their drinking or drug use. Sometimes called an intervention, this conversation can be formal or casual. To help you be more effective:
Don't argue with your loved one or blame them for their problems.
Approach your loved one when they are not under the influence. They will not be able to have a rational conversation if they are impaired by drugs or alcohol.
Learn about addiction so that you can come from a place of compassion and understanding when talking with them.
Communicate that you are speaking with them not to make them feel guilty, but because you love and care about them.
Convincing Your Loved One To Go To Rehab
Seeking professional treatment is one of the best things your loved one can do. You can play a supportive role in their recovery process by encouraging them to seek treatment. To convince them to get help, consider some of the following strategies:
Tell them that you'd be willing to help them call a treatment center, or go with them to an appointment.
Express to them that addiction is a legitimate medical condition, so seeking treatment is important.
Offer specific examples of concerning behavior related to their drinking or drug use, such as failing to spend time with their children or report to work.
You may have to set a boundary and tell them that you will no longer be able to spend time with them or offer financial support if they do not seek treatment.
What To Expect When They Go To Rehab
If your loved one chooses an inpatient treatment program, they will live onsite at a treatment center. This means they will have around-the-clock care and intensive treatment sessions. They may not have access to their phone while in rehab to help them focus on their recovery. At The Recovery Village Columbus, patients may be able to make phone calls during designated times each week. Should your loved one start in outpatient rehab, they'll have scheduled therapy appointments regularly at the facility, but can live at home.
Our rehab programs also have family therapy available, meaning your loved one's therapist may invite you to participate in family therapy sessions, as clinically appropriate.
What To Expect After Rehab
When your loved one returns from rehab, they will need ongoing support to help them stay committed to recovery. You can support your loved one by participating in family therapy sessions, if needed, and encouraging them to take part in aftercare services, such as ongoing online counseling through Nobu and support groups.
Your loved one may need to take a step back from family activities and responsibilities in order to focus on their recovery. This means they may need some time to themselves, or additional downtime for self-care. It is important to be respectful of your loved one's boundaries. It's also helpful to have a conversation with them about things that may be triggers for drug cravings, so you can help them avoid and cope with these triggers.
Resources For Family and Friends
If your loved one has an addiction, the following resources can also be helpful to you to maintain your own mental health: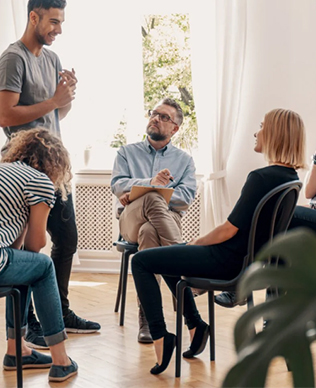 Questions?
Our Recovery Advocates are ready to answer your questions about addiction treatment and help you start your recovery.