How to Handle a Friend's Recurrence of Drug Use
Last Updated: November 10, 2022
Jump to Section
Watching friends go through the depths of addiction can be extremely difficult. That is why it is such a relief to know that they have made the decision and taken the steps to quit their habit and enter rehab.
Unfortunately, a recurrence of use is rather common, both during and after completion of rehab. Sometimes it takes a few attempts at rehab before sobriety sticks.
In the meantime, it can be tough for friends to watch others suffer from recurrence of use, especially after they have tried so hard to stay away from their drug of choice.
How you react to the situation makes the difference, both for the sobriety of your friend and your own well-being, especially if you are recovering from addiction yourself. Whether you have achieved sobriety yourself or are simply a concerned loved one, your actions matter.
Why Does Recurrence of Drug Use Happen?
Substance use disorder is a disease, and like any other disease, it needs to be treated over the long haul. Anyone who suffers from a disease like addiction can easily encounter a relapse, and in this case, tweaking of the treatment may be necessary from time to time.
Recurrence of use is not necessarily a sign of weakness, but just a setback along the journey to sobriety. If recurrence of use does happen, the treatment plan may need to be modified to help the person get back on the road to recovery and stay there.
Recognize the Signs of Relapse
One of the first things you can do is recognize the early signs of recurrence of drug use. These may include:
Anxiety
Paranoia
Depression
Loss of appetite
Appearance and smell of inebriation
Lack of energy
Lack of responsibility
Weight loss
Slurred speech
Lack of interest in favorite activities
Defensive attitude
You may even notice that a friend is hanging out with others who have been an influence toward drug use in the past. You may also notice your friend posting status updates or photos on social media with an alcoholic beverage or cigarette. As a friend, you will know what behaviors and actions may seem a little odd or suspicious. Any one of these signs could be indicative of relapse.
What Can You Do When a Friend Relapses?
Here are some tips for dealing with a friend who has slipped out of sobriety.
Do not make the person feel guilty. "Why can't you stop using?" or "You need to be stronger than that" are not things that you should say to someone who is using again. He or she probably already feels bad about slipping and does not need to feel any worse. Making the person feel guilty is not only ineffective, but it can also send the person deeper into addiction.
Remind your friend about his or her success quitting the first time around. Acknowledging how hard your friend has worked to achieve and maintain sobriety can help the person realize that he or she has the strength to achieve it again.
Be there for your friend. Sobriety is much more likely if the person suffering from addiction is surrounded by supportive people. That is precisely why group therapy and 12-step programs are so effective. It is also why sober living facilities work. Fellowship supports sobriety, while loneliness does the opposite. If your friend has a recurrence of use, make your presence known and let him or her know that you are there to help.
Do not ignore the problem. You might feel bad for your friend, but dismissing the issue and making excuses for your friend is not going to encourage him or her to get the needed help.
Do not be pushy. Your friend needs help, but you do not want to bully him or her and push the issue. You can be a good influence and guide the person in the right direction without exerting unnecessary emotional force.
Take care of yourself first. Keep living your life of sobriety. Continue eating well, exercising, and participating in activities you love. Perhaps being an example of good health may encourage the person to follow in your footsteps.
See Related: Can you force someone to go to rehab?
Help is Near
If you have a loved one who desperately needs help overcoming addiction, it is important to know that help is available and easily accessible. Get in touch with an associate at The Recovery Village to learn about Ohio addiction treatment resources today.
Call The Recovery Village Columbus today to learn about admission and to get advice about how to help a friend in need of addiction treatment support.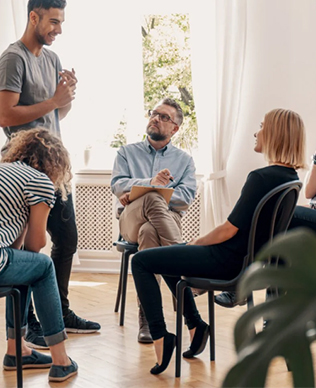 Questions?
Our Recovery Advocates are ready to answer your questions about addiction treatment and help you start your recovery.